Lt Colonel John Harris Cruger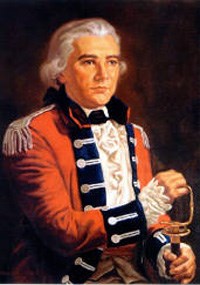 Loyalist Commander
Born: 1738, New York City
Died: June 2, 1807 London, Eng.
Buried: London, England
At Ninety Six:
● 43 years old
● Early August 1780: Became Loyalist commander at Ninety Six.
● Fall 1780: Fortified Town & Stockade.
● December 1780- Early 1781: Had Star Fort built.
May 22- June 19, 1781:
● Commander of about 550 Loyalists from New York, New Jersey, & South Carolina.
● June 3: Refused to surrender to Greene.
● June 13: Learned that British reinforcements were coming.
● June 21- Early July 1781: Burned town of Ninety Six, destroyed supplies, and then left Ninety Six to the backcountry Patriots.

There are no recognized paintings of Cruger. This painting was done from paintings and pictures of Cruger's known relatives. Cruger's red coat signifies his allegiance to the British/ Loyalist side of the Revolutionary War.
Last updated: April 14, 2015