Lt Colonel John Harris Cruger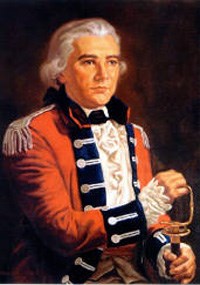 Quick Facts
Loyalist Commander
Born: December 25, 1737, Jamaica
Died: June 3, 1807 London, England
Buried: London, England
At Ninety Six
● 43 years old
● Early August 1780: Became Loyalist commander at Ninety Six.
● Fall 1780: Fortified Town & Stockade.
● December 1780- Early 1781: Had Star Fort built.
May 22- June 19, 1781
● Commander of about 550 Loyalists from New York, New Jersey, & South Carolina.
● June 3: Refused to surrender to Greene.
● June 13: Learned that British reinforcements were coming.
● June 21- Early July 1781: Burned town of Ninety Six, destroyed supplies, and then left Ninety Six to the backcountry Patriots.
There are no recognized paintings of Cruger. This painting was done from paintings and pictures of Cruger's known relatives. Cruger's red coat signifies his allegiance to the British/ Loyalist side of the Revolutionary War.

John Harris Cruger
Commander, First Battalion of DeLancey's Brigade, Loyalist (1776-1783)
John Harris Cruger was born on 25 December 1737 in Jamaica.[i] He came from an important merchant family in New York. They owned trading centers in Bristol, England, and throughout the West Indies. We have little information on Cruger's childhood. He probably went to King's College, which is now called Columbia University, where his father and uncle were founding governors.[ii] Cruger was the oldest of four brothers and two sisters. During 1765, he was in Jamaica, managing the shipment of rum, molasses, and sugar to New York.[iii] By 1771, Cruger had returned to New York City. Later that year, he became a governor of King's College.[iv]

Cruger replaced his father as a member of the Governor's Royal Council in April 1773. He became the city's Chamberlain in 1776.[v] In June of that year, Cruger fled his home on Hanover Square in Manhattan when a group of rebels tried to seize him. Cruger hid in a Loyalist Quaker's barn until the British army recaptured the city in August.[vi]
A Grueling Combat History
Cruger had no previous military experience. Even so, he was commissioned as a lieutenant colonel. He took command of the First Battalion in his father-in-law's Loyalist brigade. Cruger helped defend Long Island.[vii] He also was responsible for the construction and garrisoning of a fort at the town of Huntington.[viii]

In November 1778, Cruger sailed to Georgia to support Lord Cornwallis. He arrived in Savannah on 23 December.[ix] Cruger led his battalion as British forces captured the city. In September 1779, Cruger held an important position during the siege of Savannah. Cruger led his unit as part of the British forces who captured Charleston, SC in May 1780 and defeated a larger American force at the Battle of Camden, SC on 16 August 1780.[x]

In June 1780, Lord Cornwallis ordered Cruger to take command at Ninety Six. Arriving in August, Cruger improved the post's existing defenses and built new ones. He defended Ninety Six during the 22 May-19 June 1781 siege by American General Nathanael Greene. He evacuated the post later that summer. In one of his final actions, Cruger led British forces during the 8 September 1781 Battle of Eutaw Springs.[xi]
Post-War Exile
Cruger returned to New York in the summer of 1782.[xii] He arranged for the settlement of many of the First Battalion's officers and soldiers at Woodstock, New Brunswick.[xiii] Cruger lost lost his New York properties under the Confiscation Act of 1779 and had most of his possessions auctioned off. Cruger sailed to England in the summer of 1783.

Cruger settled in Beverley, Yorkshire. He asked the British government for compensation for his financial losses. These included supplies he bought before the siege at Ninety Six.[xiv] In 1784, Cruger campaigned for his brother, Henry, during Henry's election to Parliament as a representative of Bristol.[xv]

Cruger died on 3 June 1807. He was buried in the vault under St. James Chapel in Hampstead, London. His wife—who would live another fifteen years—commissioned a stone plaque memorializing Cruger's military exploits, including his defense of Ninety Six against "a Force of 7000 men with a numerous Train of Artillery." This plaque is located on the north wall of the chapel.[xvi]
A Courageous Partner
In December 1762, Cruger married Anne DeLancey. She would undergo trials that rival those of her husband.[xvii] While staying at her father's home in November 1777, Anne, her mother, and her sister had to flee from a rebel raiding party that plundered and burned the house. When sailing to Savannah in October 1779 to join Cruger, Anne's ship was damaged in a storm. She was rescued by a French man of war and became a guest of the French admiral, the Comte d'Estaing, for the duration of the siege of that city.

Anne accompanied Cruger to Ninety Six and lived with him in the garrison. When General Greene's army, approached, Cruger sent Anne and the wife of another Loyalist officer to stay at the house of a sympathetic Presbyterian minister a mile outside the siege zone. The two women came under the protection of Gen. Greene until his retreat from Ninety Six.
---
[i] Cruger, Douglas Wright; "A Genealogical and Biographical History of the Cruger Families in America," p. 9, 1988 (from wvancestry.com: accessed 26 January 2021); "Partner Trees: MyTrees.com," database, FamilySearch (https://familysearch.org/ark:/61903/2:2:QWK6-W4S : accessed 4 February 2021)
[ii] https://columbiaandslavery.columbia.edu/content/4-watts-crugers-and-others: accessed on 25 January 2021
[iii] Cruger, p. 13
[iv] https://columbiaandslavery.columbia.edu/content/4-watts-crugers-and-others: accessed 25 January 2021
[v] Cruger, p. 13; Bolton, Robert; "The History of Several Towns, Manors, and Patents of the County of Westchester, Volume 1 (revised)," 1881; p. 182
[vi] Jones, Thomas; "History of New York During the Revolutionary War," 1879; pp. 108-109
[vii] Orderly book of the three battalions of loyalists commanded by Brigadier-General Oliver De Lancey 1776-1778 : to which is appended a list of New York : Great Britain. Army. Provincial Corps. De Lancey's Volunteers. : Free Download, Borrow, and Streaming : Internet Archive: accessed 1 February 2021
[viii] Thomas, p. 266
[ix] Raymond, W.O.; "Brave Soldier of the Revolution," Acadiensis, Vol. II, 1902, p. 240
[x] Acadiensis; a quarterly devoted to the interests of the maritime provinces of Canada : Jack, David Russell : Free Download, Borrow, and Streaming : Internet Archive, p. 241: accessed on 25 January 2021
[xi] https://allthingsliberty.com/2013/07/loyalist-leadership-in-the-revolutionary-south/#_edn11: accessed on 9 February 2021
[xii] https://www.ancestrylibrary.com/imageviewer/collections/3712/images/40939_307348-00165?usePUB=true&_phsrc=dzO8&_phstart=successSource&usePUBJs=true&pId=18799: accessed 8 February 2021
http://www.royalprovincial.com/genealogy/settle/lnd1del1.shtml: accessed 22 January 2021 and
[xiii] Acadiensis; a quarterly devoted to the interests of the maritime provinces of Canada : Jack, David Russell : Free Download, Borrow, and Streaming : Internet Archive, p. 244: accessed on 25 January 2021
[xiv] https://www.ancestrylibrary.com/imageviewer/collections/3712/images/40939_307348-00161?treeid=&personid=&rc=&usePUB=true&_phsrc=nBr1&_phstart=successSource&pId=18799, pp. 162-169: accessed 10 February 2021
[xv] https://www.historyofparliamentonline.org/volume/1754-1790/member/cruger-henry-1739-1827: accessed 10 February 2021
[xvi] Search | British History Online (british-history.ac.uk),vol 12, pt 3, pg 123-136 accessed 8 February 2021
[xvii] https://www.wikitree.com/wiki/Space:Henry_Cruger_Family_Bible: accessed 10 February 2021
Last updated: May 2, 2021