Join Our Friends
To Volunteer directly with the Park, please contact us or you may become a member of our Friends group.
---
Become a member of Volunteers 96!

Membership of Volunteers 96 is made up of persons whose primary interest is the well being of the Park. Members are dedicated to the ideal that it supports those special needs identified by the Park.
Goal: "...to interpret, to protect, and to preserve Ninety Six National Historic Site for this and future generations."
Opportunities:
Assistance in special projects
Special events
Reseach and Visitor Center
Monitoring bird houses
Fundraising
Adopt-a-Highway program
Trail maintenance
Much more!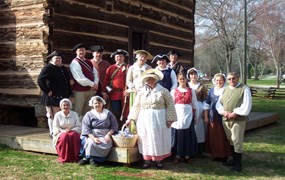 For further information contact:
Volunteers 96
PO Box 495
Ninety Six, SC 29666
To learn more about Volunteers 96, the Heart of the Park, visit our news archive section.


Last updated: April 17, 2015