Indoor Activities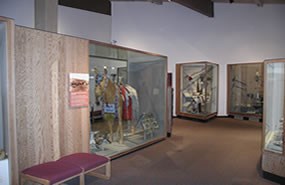 Spalding Visitor Center

At the visitor center and museum in Spalding, Idaho, park staff provide information on sites and activities at Nez Perce National Historical Park.
Throughout the year, the park film, Nez Perce - Portrait of a People, is shown. It provides an introduction to the Nez Perce story and is also available for purchase. Museum exhibits feature an outstanding collection of clothing, tools, weapons, and ceremonial objects. The Northwest Interpretive Association has a sales outlet where you can purchase items about the Nez Perce and the National Park Service.
Generally, from Memorial Day to Labor Day, the park staff provides special walks and talks, that include museum tours and tipi pitching demonstrations.
Big Hole National Battlefield

The park visitor center provides information on how to access the battlefield. The park film, Weet'uciklitukt: There's No Turning Back, Battle at Big Hole provides an excellent introduction to the Nez Perce War of 1877 and the tragedy that took place at Big Hole. There is an exhibit on the battlefield and a sales center with items related to what happened at Big Hole and general works on the war and Nez Perce history and culture.
Bear Paw Battlefield

To get an orientation to the last battle of the Nez Perce War, your first stop should be the Blaine County Museum in Chinook. The museum offers a short audiovisual presentation 40 Miles to Freedom about the battle and siege at Bear Paw. The museum also offers exhibits on local history and paleontology. Check with the museum staff to see when the ranger will be at the battlefield.


Last updated: November 25, 2017