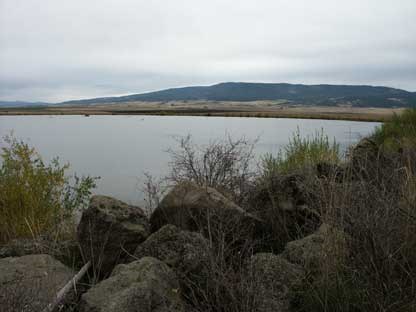 Tolo Lake, a shallow lake covering about 35 acres, is the largest natural water body on the Camas Prairie. The Nez Perce name for Tolo Lake is Tepahlewam or Split Rocks. The lake is an ancient rendezvous site the Nez Perce used for gathering camas root and for meeting with neighboring bands.
Forced from their homes in Wallowa Valley in northwestern Oregon, several bands gathered here on June 2, 1877, in preparation for moving to the Nez Perce reservation. Angered by the forced move, several young warriors decided to take revenge on some settlers who had killed some of their relatives. As a result of this action and a second raid two days later, the first battle of the Nez Perce Flight of 1877 occurred at White Bird Canyon.
The lake also has roots that go back to the last ice age. Significant remains of a Pleistocene mammoth and prehistoric bison were excavated from the lake in 1994.
For more information on visiting Tolo Lake, feel free to print out a brochure on this small but significant lake.

Learn more about what happened next by following the links below.