Pierce Courthouse History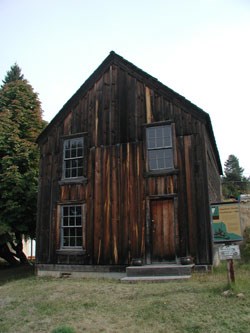 Visitors to the Pierce Courthouse see it as a reminder of the gold rush that swept through this region in the early 1860s, triggering a series of events that would have lasting consequences for the Nez Perce.

The namesake of the Pierce Courthouse, Elias Davidson Pierce, discovered gold in the creeks above Orofino. Mining was not allowed on reservation land, but the lure of riches was a stronger motivator than fear of breaking the law. Pierce discovered a rich vein of gold along the north fork of the Clearwater River, which triggered a gold rush. Within just a few months, hundreds than thousands of hopeful miners were tresspassing on the Nimiipuu reservation. The chief settlement of the region, Pierce, became the county seat for Shoshone County.
Quarrels with miners and an inability to control the influx of miners led to new treaty negotiations, resulting in the Treaty of 1863.
Last updated: August 30, 2020