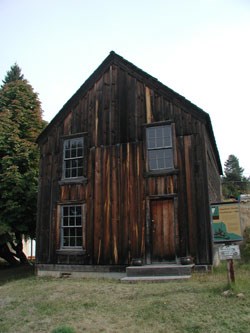 The courthouse stands as a reminder of the gold rush that swept through this region. The namesake of the Pierce Courthouse, Elias Davidson Pierce, discovered gold in the creeks above Orofino, triggering a series of events that would have lasting consequences for the Nez Perce.
Mining was not allowed on reservation land, but Pierce did gain access to reservation land with the help of some sympathetic Nez Perce. His discoveries along the north fork of the Clearwater River would trigger a gold rush into the drainages along this tributary of the Clearwater. The chief settlement of the region, Pierce, became the center for Shoshone County. Built in 1862, it is the oldest public building in the state of Idaho.
Quarrels with miners and an inability to control the influx of miners led to new treaty negotiations, resulting in the Treaty of 1863. Many Nez Perce did not participate in these negotiations and they lost their land including the bands that lived in northeastern Oregon and southeastern Washington.