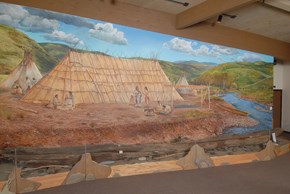 Nez Perce Village
The Nez Perce had a presence at the confluence of Lapwai Creek for thousands of years. Unlike other peoples who moved into an area after being dislocated from another, evidence suggests that the Nez Perce and their ancestors have been in this region for a long time. The large flat areas that cropped up along the river valleys are known as benches and were the preferred sites for permanent villages and temporary camps. The size and location of the river bench at Spalding suggests that it saw continuous occupation for 10,000 years.
The Clearwater River
The rivers that run through Nez Perce country provided sustenance and served as virtual highways to neighboring villages and enabled the vast Nez Perce trade network stretching from the Great Plains to the Pacific Ocean.
Until the arrival of the horse in the early 1700s, allowing Nez Perce hunting parties to pursue game, in particular Buffalo, the rivers provided the Nez Perce with their chief form of sustenance - salmon. Depending upon the time of year, salmon were caught from the late spring through the fall and dried for use during the sparse winter months.
Prior to the horse, the rivers provided access to the many bands of Nez Perce who lived on the river. Canoes were manufactured from logs that were either recovered from the river or cut down. They were burned and chipped to form a canoe. The park takes care of several Nez Perce canoes and a canoe owned by the Nez Perce Tribe is on display in the lobby of the visitor center.