Musselshell Meadow History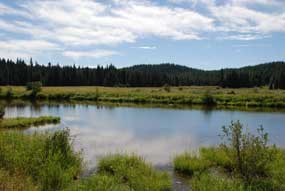 The connection to the land is one of the constant themes encountered when you speak to a Nez Perce. It's the land and what it offers that bridges contemporary Nez Perce with their ancestors. Musselshell Meadow is a place that reminds us of that connection. Nestled at the edge of the Bitterroot Mountains, it is a place that Nez Perce have gathered to find the camas lily.
Camas was once gathered throughout the prairies that are found in the heart of Nez Perce country. The plant is a sacred food and historically supplemented the fish and game that came from the surrounding area. Before the arrival of settlers and the coming of sustained agriculture and ranching, the Nez Perce frequented the Prairies above the Clearwater River to gather camas. After the Treaty of 1863, Weippe was out of the reservation boundaries and with the passage of the Dawes Act in the 1880s, most of the Camas Prairie became privately held farm land. These changes made access to traditional and accustomed areas more difficult to access. Many went to gather roots at the edge of the mountains. Musselshell Meadow is one of these places.
In 1877, the Nez Perce fleeing the army passed through here on their way east and beginning in 1897, the meadow complex became part of the Bitterroot Forest Reserve which is now Clearwater National Forest. The forest service built a cabin here in 1902 and have had a presence here ever since. Nez Perce root diggers continue to frequent Musselshell and can often be seen in the late summer and early fall gathering camas. Despite the passage of time and the challenges of finding sustainable camas grounds, traditions established centuries ago continue.
Last updated: January 7, 2018