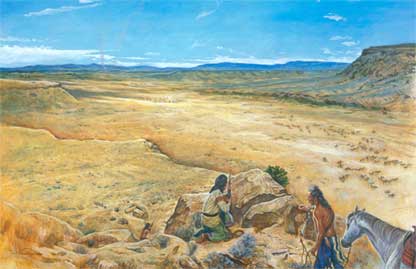 After the battle at Big Hole at the beginning of August, the Nez Perce continued east, traveling through Yellowstone National Park in an attempt to shake their pursuers. As Howard continued his pursuit, Colonel Samuel Sturgis and the Seventh Cavalry were ordered to intercept the Nez Perce as they left Yellowstone.
The Nez Perce gave Sturgis the slip, but he finally caught up with them at Canyon Creek, west of Billings, Montana. On September 13, as Sturgis approached the mouth of the Canyon, Chief Looking Glass formed a rear guard and stopped Sturgis' advance, allowing the long column of Nez Perce families to escape. After Canyon Creek, the Crow Indians turned against the Nez Perce. With the U.S. Army close by, rather than providing assistance, they plundered the Nez Perce horse herd.
The site is located just north of Laurel, Montana. Nearly all of the battlefield is now private property but the park has a small kiosk at the mouth of Canyon Creek with interpretive signage telling the story of what happened here in 1877.