Camas Prairie History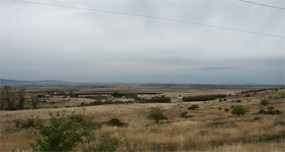 The rolling hills and plains of the Camas Prairie mark the heart of the Nez Perce Indian Reservation. Since time immemorial, this treeless landscape saw a great deal of activity. In the spring, when the weather warmed up, Nimiipuu (Nez Perce) families moved from the river bottoms to the Camas Prairie. The Prairie was rich in resources - grasslands provided forage for horse herds and camas bulbs could be picked in patches all over the prairie.

Tolo Lake, at the south end of the prairie, was a well known gathering place and it was here that the Nimiipuu bands from the Wallowa Country in northeastern Oregon gathered in June of 1877 after being ordered to leave their homes. The subsequent violence that took place in the Salmon River and at White Bird would ignite the Nez Perce flight of 1877.

With the passage of the Allotment Act by Congress in the 1880s, the amount of land on the Camas Prairie held by Nimiipuu families would shrink. In an attempt to reform the way reservations were managed, the Allotment Act (also known as the Dawes Act) provided for 160 acres to Nimiipuu heads of household. It was assumed that this would provide the land needed to start a family farm, and that by embracing a Christian farming lifestyle the Nimiipuu could better assimilate into American culture. Land that was not allotted to Nimiipuu families was considered "surplus" and open to general settlement by whites. The allotment process was carried out on the Nez Perce Reservation between 1889 and 1893 and it put more than 70% of the Reservation into non-Indian hands. As a result, much of the land was converted to agriculture. Camas can still be found in isolated patches but it's mostly gone, replaced by wheat fields or pastureland.
Last updated: August 30, 2020