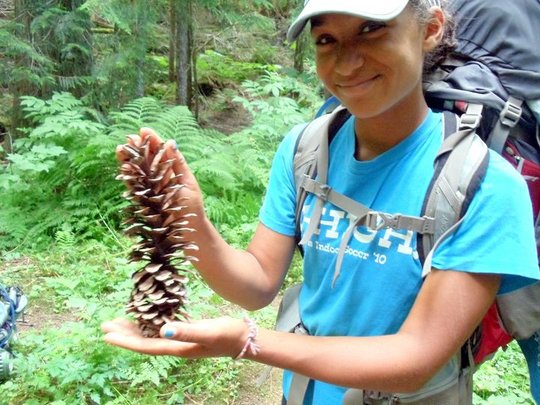 News Release Date:
March 24, 2014
Contact: Charles Tracy, 6172235210
National parks and trails have played a vital role in my life since childhood and I wouldn't be who I am today without my experiences of these amazing resources. I hope that through my work with the New England Scenic Trail I'll be able to get more young people outside and enjoying the fresh air!
~ Alexandra Barber, Community Conservation Intern, New England Trail 
Answering the Call to Action to nurture lifelong connections between the public and Parks, especially for young people, Alexandra "Lexie" Barber has been named by the Appalachian Mountain Club as Community Conservation Intern for New England Trail. Over the next year Lexie will focus on engaging college students and Pioneer Valley communities with the New England Trail, and on introducing younger students to the trail in the City of Holyoke. Currently a second-year student at Amherst College where she is majoring in Psychology and Spanish, Lexie is the president of the Amherst College Outing Club, a long-time camp counselor, and an experienced adventure trip leader.
The New England National Scenic Trail was designated in 2009 in Connecticut and Massachusetts. The Community Conservation internship is being funded through the Connect Trails to Parks program which is designed to increase awareness, appreciation, and use of the nation's federally-designated system of trails.