Guided Tours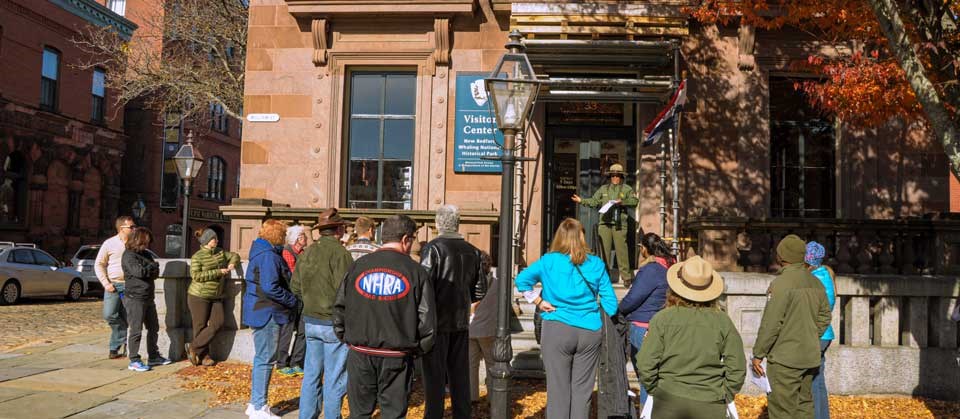 About Guided Tours
Our Visitor Center is open Wednesday - Sunday, 10:00 AM to 4:00 PM.
Guided tours are offered every Wednesday, Friday, Saturday, and Sunday at 2:30 PM.
Wednesday walking tours start on June 25th. Stay tuned for more information.
On Fridays, join the park's volunteer, Wendy Davis as she explores everything about whales. They are the largest, loudest, most intelligent, and longest living animal on the planet. On this walking tour you will discover what makes whales extraordinary, how whales have helped humans, and how we can help the them in return.
On Saturday, Join a ranger for a whaling walking tour of the historical district! New Bedford Whaling National Historical Park preserves and interprets a heritage extending back to New Bedford's dynamic era as the world's foremost whaling port during the 19th century. A complex social, economic, and cultural network evolved to support the whaling industry, fostering an entrepreneurial spirit that has sustained the transformation of the city and enriched the cultural history and fabric of the park.
On Sunday, join ranger Rufai for an Underground Railroad walking tour. Think of the millions enslaved African Americans during America's slavery days. What do you think would have happened if they were educated or given an opportunity to thrive instead of being enslaved? Frederick Douglass, John Jacobs, and Sergeant William Carney, all made it.

Captain Paul Cuffe, born free, was a sea captain, merchant, and activist who became one of the wealthiest Americans of African and Wampanoag descent.
Last updated: June 18, 2022