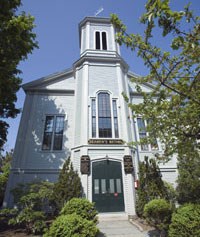 What is a Bethel?
The term "bethel" comes from two Hebrew words, "Beth" and "El." Beth means "House" and El means "God", so it is a Seamen's House of God or a Seamen's Church.
Why was the Bethel built?
The Quaker whaling merchants applied their beliefs in industry, thrift, honesty, hard work, and integrity to the whaling trade. The result in the profitable business made them wealthy beyond belief. With their wealth, they built fine mansions surrounded by beautiful gardens. Artists were attracted to Bedford Village and it became a community of culture and refinement.

As the whaling industry grew, more and more men were needed to man the many whaleships leaving the port. At various times, the number of seamen in Bedford Village ranged from 5,000 to 10,000 — nearly equaling the population of the village! The lives of these whale men were quite a contrast to those of the local citizens. Whale men sought out gambling dens, brothels, saloons, and dance halls — establishments which, as the leading citizens observed, were "detrimental to the dignity and good order of our community." In addition, Quaker whaling merchants were concerned that the whale men spent the wages of a multi-year voyage in just a few days on such pursuits, leaving them broke and without means of support.

What to do? In 1830, the leading citizens of the town met to discuss the situation and as a result of that meeting the New Bedford Port Society for the Moral Improvement of Seamen was organized. They immediately offered church services to whale men before they shipped out on whaling voyages. Services were held either down at the waterfront or in the Town Hall. The long-term impracticality of waterfront services and the difficulty of constantly arranging to use the Town Hall soon led the Port Society to conclude that they needed their own building. In 1832, the Seamen's Bethel was dedicated as a nondenominational church and serves today in that capacity.