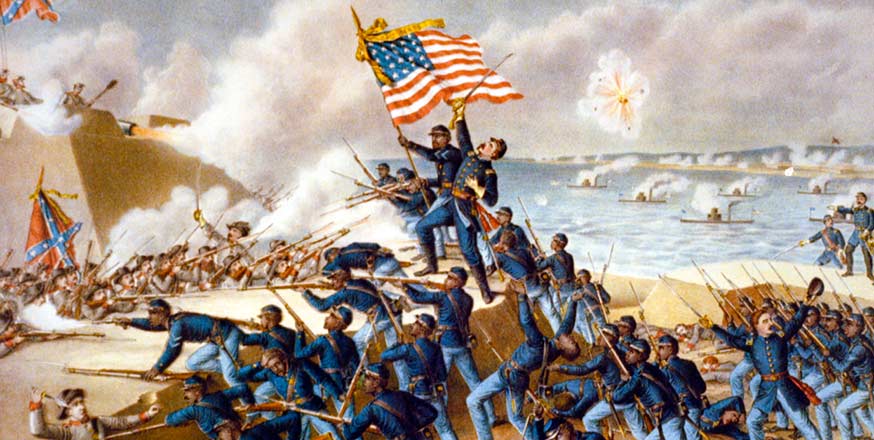 News Release Date:
August 17, 2016
Contact: Janine da Silva, 508-996-4095 ext6104
New Bedford, MA— The 54th Massachusetts Volunteer Infantry Regiment was one of the first federally recognized African American regiments that fought in the Civil War with an enlistment station for Company C adjacent to the U.S. Custom House in downtown New Bedford. More than 60 men from New Bedford enlisted in Company C or other Companies of the 54th Regiment. A brick walkway with the names of New Bedford men enlisted with the 54th Regiment will be unveiled and dedicated to this accomplished and determined group of men on Saturday, August 27th, at 2:00 PM at Custom House Square, downtown New Bedford, just steps away from where the recruiting station was once located.  
Robert G. Stanton, former Director of the National Park Service, will be the keynote speaker. His speech will be followed by refreshments in New Bedford Whaling National Historical Park's garden. Soldiers from Boston's 54th Massachusetts Volunteer Infantry, Company A and Colored Ladies Christian Relief Society will be in attendance as a ceremonial Honor Guard. This event, co-sponsored by the New Bedford Historical Society, the City of New Bedford, and New Bedford Whaling National Historical Park is the result of the partnership efforts of the three organizations to further the history of African Americans and their role in the Civil War. For more information on this event please contact the New Bedford Historical Society, 508-978-8828, Facebook.com/nbhistory.  
Mr. Stanton, 15th Director of the National Park Service, began his career at Grand Teton National Park as a seasonal ranger, working his way through the ranks until he served as Regional Director of the National Capital Region prior to his retirement. After retirement, President Clinton asked him to serve as the Director of the National Park Service, a position he held from 1997-2001. Mr. Stanton is no stranger to New Bedford, having been present for the dedication of the Nathan and Polly Johnson House in 2000 and the dedication of the 54th Massachusetts Volunteer Infantry Regiment mural on 41 William Street.  
The year 2016 marks the Centennial of the National Park Service, the federal agency formed to conserve the scenery and the natural and historic objects and the wild life therein and to provide for the enjoyment of the same in such manner and by such means as will leave them unimpaired for the enjoyment of future generations (National Park Service Organic Act of 1916). Presently,the National Park Service has 412 units in the United States, with 15 in the commonwealth of Massachusetts. Beginning August 25, 2016, the National Park Service will begin its second century of stewardship of America's special places and helping Americans make meaningful connections to nature, history and culture.