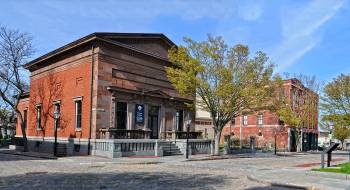 News Release Date:
April 9, 2015
Contact: Emily G Prigot , 508-996-4095 x6105
New Bedford Whaling National Historical Park joins parks, programs and partners across the country to encourage everyone to find their park and share their stories online at FindYourPark.com. Launched yesterday by the National Park Service and the National Park Foundation, Find Your Park is a public awareness and education campaign celebrating the milestone centennial anniversary of the National Park Service in 2016 and setting the stage for its second century of service.
Find Your Park invites the public to see that a national park can be more than a place -- it can be a feeling, a state of mind, or a sense of American pride. Beyond vast landscapes, the campaign highlights historical, urban, and cultural parks, as well as the National Park Service programs that protect, preserve and share nature, culture, and history in communities nationwide.
"Find Your Park" will also be the theme for this year's National Park Week, April 18 –26. On Saturday, April 18, look for New Bedford Whaling National Historical Park's booth at the Planet for the Party event from 11 AM- 3 PM at Buttonwood Park Zoo. For more information on this event go to http://www.bpzoo.org/party-for-the-planet/On Sunday, April 19, the park will host its first-ever Instameet.This social media-driven event will run from 2-4 PM, and features a behind-the-scenes look at the old bank vault, located in the visitor center. Ruth, one of the park's 1850s ladies, will be on hand to tell stories of the building's past. Join New Bedford Whaling National Historical Park for Junior Ranger Day on Thursday, April 23 from 1-4 PM.Earn a ranger hat and bracelet that day, with free activities that include: Pin the Badge on the Ranger, Dress Up Like a Ranger, Arrowhead craft, activity booklet and more. For more information on park events go to www.facebook.com/NBWNHP
"We invite everyone from the Greater New Bedford community to celebrate National Park Week at our park," said Meghan Kish, superintendent of New Bedford Whaling National Historical Park."The activities give young people, in particular, a chance to find out about the National Park Service, and the different types of jobs that National Park Service employees do to preserve and interpret the awe-inspiring history and landscapes that we share," she added.
Visit www.NationalParkWeek.org to learn more about how you can join parks, programs, and partners in celebrating National Park Week across the country. Everyone finds their park in a different way. Discover yours at FindYourPark.com
About the National Park Service. More than 20,000 National Park Service employees care for America's 407 national parks and work with communities across the nation to help preserve local history and create close-to-home recreational opportunities. Learn more at www.nps.gov.