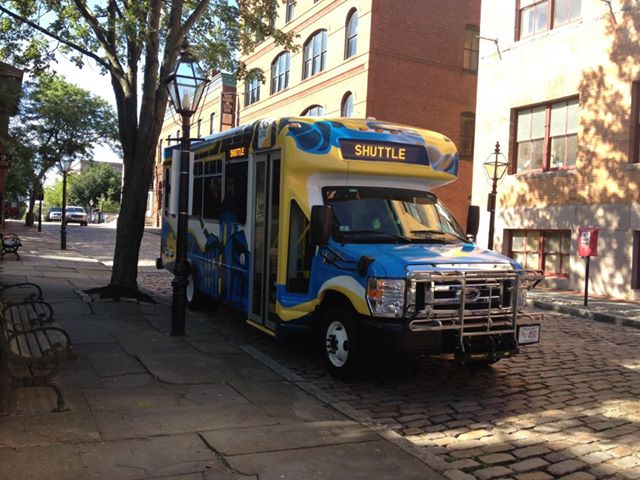 News Release Date:
May 25, 2013
Contact: Emily Prigot, 508-996-4095 x6105
NB Line Returns on May 25
Low-cost downtown attraction shuttle 
New Bedford, MA – On Saturday, May 25, New Bedford Whaling National Historical Park, Southeastern Regional Transit Authority, and the City of New Bedford will bring back the national park's shuttle system, the NB LINE. The shuttle debuted last year, and visitors enjoyed seeing the city's many sites without having to navigate through traffic to locate their destinations. 
The NB LINE will run on weekends through June 22 (including Memorial Day), then seven days a week all during the summer through Labor Day. From September 2 through Columbus Day it will run on weekends only. The hours of operation are 9:00 a.m. to 5:00 p.m. A one day pass only costs $1.00 for adults and is free for children and students with ID. 
The NB LINE is aimed at connecting the New Bedford community, providing easy access to New Bedford attractions, promoting the history of New Bedford, and creating a cohesive visitor experience for the hundreds of thousands of annual visitors to the whaling city. The shuttle system will have three routes starting from the National Park Visitor Center. The Downtown Route, running every 20 minutes, connects the waterfront to museums, parking garages, local businesses, and other visitor destinations in the downtown area. Buttonwood and Fort Taber Routes, running every 70 minutes, connect other primary visitor destinations of the city such as Buttonwood Park Zoo, Fort Taber Park, antique shops, and beaches to the historic downtown. 
Information on shuttle routes and times can be found at https://www.nps.gov/nebe/planyourvisit/nb-line.htm About New Bedford Whaling National Historical Park New Bedford Whaling National Historical Park was established by Congress in 1996 to help preserve and interpret America's nineteenth century whaling industry. The park, which encompasses a 13-block National Historic Landmark District, is the only National Park Service area addressing the history of the whaling industry and its influence on the economic, social, and environmental history of the United States. The National Park visitor center is located at 33 William Street in downtown New Bedford. It is open seven days a week, from 9 AM-5 PM, and offers information, exhibits, and a free orientation movie every hour on the hour from 10 AM-4 PM. The visitor center is accessible to all. Admission is free. For additional information and 
schedules, go to the park website at www.nps.gov/nebe or visit the park's Facebook page at https://www.facebook.com/NBWNHP