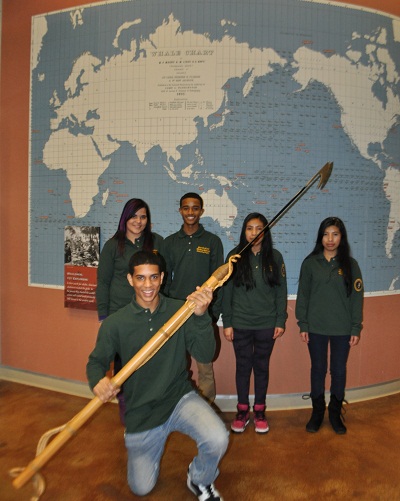 News Release Date:
February 15, 2013
Contact: Emily Prigot, 508-996-4095 x6105
Park Welcomes English Language Learners
New Bedford, Mass.- Through a Ticket to Ride grant from the National Park Foundation, New Bedford Whaling National Historical Park launched a new program for English Language Learners from New Bedford High School. The Learners to Teachers program engages students in learning about the whaling industry and its influence on the cultural history of New Bedford, while preparing them to develop and deliver programs for English Language Learners in elementary school. Participants learn skills such as public speaking, video production, animation, and program development through visits to park and partner resources, public-speaking workshops, and teacher and ranger-led instruction. On February 7, with family, teachers, and friends looking on, five graduating participants were accepted into the park's volunteer program. As part of the graduation ceremony, the students presented an animated video they created that introduces young visitors to the park.
In addition to volunteering at the national park, graduates of the program are now eligible for internships with the park and its partners. The students' first job as volunteers was to teach their family and friends about the national park. A video documenting their journey through the history and culture of New Bedford is being created by the students under the direction of Television Production teacher Robert Perotti. Videos created by the students will be available on the park's Youtube channel this spring.
The Learners to Teachers program was developed in collaboration with the New Bedford Public Schools in response to the growing challenges faced by English Language Learners. Only 54% of New Bedford students graduate from high school, and the percentage of English Language Learners that do not graduate are even higher. All of the students in the program represent cultures that have strong ties to the city's whaling past and fishing present. Park superintendent Jen Nersesian, "It is only fitting that in New Bedford, where ethnic and cultural diversity are such a part of our historical and contemporary identity, that these young people are leading the way in connecting new audiences with our city's story. English Language Learners face unique challenges in education, and we're proud to be partnering with the New Bedford Public Schools to offer opportunities that not only benefit these particular students but the whole community as well."
About the Ticket to Ride Program
One of the greatest barriers preventing our youth from experiencing the national parks around them is transportation. The goal of the Ticket to Ride program is to provide efficient transportation support for over 100,000 students to visit our national parks annually. Once in the parks, a world of learning begins as young people discover their natural, cultural and historical heritage, participate in volunteer and service-learning activities, enjoy recreational opportunities and most importantly, begin a lifelong relationship with their national parks.
About New Bedford Whaling National Historical Park
New Bedford Whaling National Historical Park was established by Congress in 1996 to help preserve and interpret America's nineteenth century whaling industry. The park, which encompasses a 13-block National Historic Landmark District, is the only National Park Service area addressing the history of the whaling industry and its influence on the economic, social, and environmental history of the United States. The National Park visitor center is located at 33 William Street in downtown New Bedford. It is open seven days a week, from 9 AM-5 PM, and offers information, exhibits, and a free orientation movie every hour on the hour from 10 AM-4 PM. The visitor center is wheelchair-accessible, and is free of charge. For more information, call the visitor center at 508-996-4095, go to www.nps.gov, or visit the park's Facebook page at https://www.facebook.com/NBWNHP.