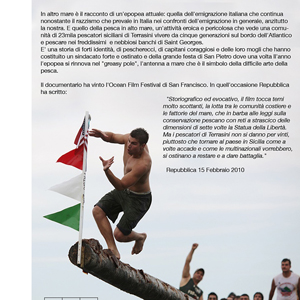 News Release Date:
May 12, 2013
Contact: Laura Orleans, Director, Working Waterfront Festival, 508-993-8894
Contact: Emily Prigot, 508-996-4095 x6105
May film looks at Gloucester's Sicilian Fishing Community 
A post film on immigrants on New Bedford's waterfront 
New Bedford, Mass. - The Dock-U-Mentaries Film Series continues on Friday, May 17 with In Altro Mare. Dock-U-Mentaries is a co-production of New Bedford Whaling National Historical Park and the Working Waterfront Festival. Films about the working waterfront are screened on the third Friday of each month beginning at 7:00 PM in the theater of the Corson Maritime Learning Center, located at 33 William Street in downtown New Bedford. All programs are open to the public and presented free of charge. 
Gloucester, Massachusetts is home to over 6,000 residents of Sicilian origin, many of them from the town of Terrasini, near Palermo. In Altro Mare looks at fishermen, their families, and the community established by the Italian Americans of Gloucester. Director and anthropologist Franco La Cecla interweaves the stories of Gloucester Sicilians with those of immigrants who returned to live and work in Terrasini, suggesting a diasporic experience of being caught between two worlds. The film pays particular attention to changes in the fishing industry that have challenged the viability of smaller-scale independent fishing in Gloucester, such as environmental regulation and globalization. The film will be followed by a discussion about the historical and present role of immigrants on the waterfront. Corinn Williams, Executive Director of the Community Economic Development Center of Southeastern MA will talk about oral history interviews she conducted with Central American women who work in seafood processing jobs on the New Bedford waterfront. The interviews were conducted as part of NOAA's Voices from the Fisheries Project; podcasts can be heard at:  
http://www.st.nmfs.noaa.gov/voicesfromthefisheries/immigrant_women.html
The Working Waterfront Festival is a project of the Community Economic Development Center of Southeastern MA, a non-profit organization. The free festival, a family friendly, educational celebration of New England's commercial fishing industry, features live maritime and ethnic music, fishermen's contests, fresh seafood, vessel tours, author readings, cooking demonstrations, kid's activities and more. It all takes place on working piers and waterfront parks in New Bedford, MA, America's #1 fishing port, on the last full weekend in September, this year on September 28 and 29. 
www.workingwaterfrontfestival.org