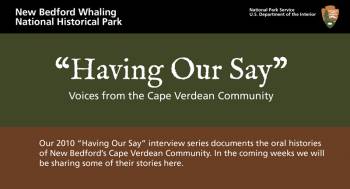 News Release Date:
April 2, 2015
Contact: Emily G. Prigot, 508-996-4095 x 6105
The compelling stories of Cape Verdeans will come to life through New Bedford Whaling National Historical Park's social media. In 2010, Ann Marie Lopes interviewed twenty Cape Verdean Americans ranging in age between 60 to 92 years throughout greater New Bedford. Excerpts from those exclusive interviews will be featured through the park's website and through its Facebook page.
"The individual personal stories captured a picture no amount of scholarly research and study can uncover, said interviewer Ann Marie Lopes."The recollections of people who were there –paint a vivid multi-dimensional picture that draws you in and piques your interest to learn more. "
The park has created a special link to highlight personal histories of these Cape Verdean individuals through its website, https://nps.gov/nebe/learn/historyculture/havingoursay.htm and via weekly posts on Wednesday on its Facebook page, https://www.facebook.com/NBWNHP.