Date:
October 25, 2017
Contact:
Andrew Schnetzer
, 508-996-4095 x6106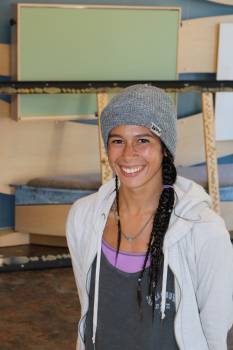 Artist Amy Araujo, current Artist -in-Residence at New Bedford Whaling National Historical Park, will host a public art workshop for November AHA! Night on Thursday, November 9. Araujo will be staffing the MakerSpace at the park visitor center from 5:00-8:00 pm. The center is located at 33 William Street in downtown New Bedford.
Amy Araujo, a recent graduate of the University of Massachusetts at Dartmouth, holds a Bachelors in Fine Arts and a Master's degree in Fine Arts. Her area of expertise is charcoal and pen and ink. She works primarily in large scale figurative work. As the Artist-In-Residence at the park, her work continues a conversation on identity, morals, and internal and external conflicts within society, as well as inequality.
As part of November's AHA! Night, Amy will be in the MakerSpace talking about her art, her residence, and offering the public an opportunity to draw their own art with her guidance. The public is invited to drop by anytime from 5 - 8 pm. All necessary supplies will be provided, or visitors may bring their own.