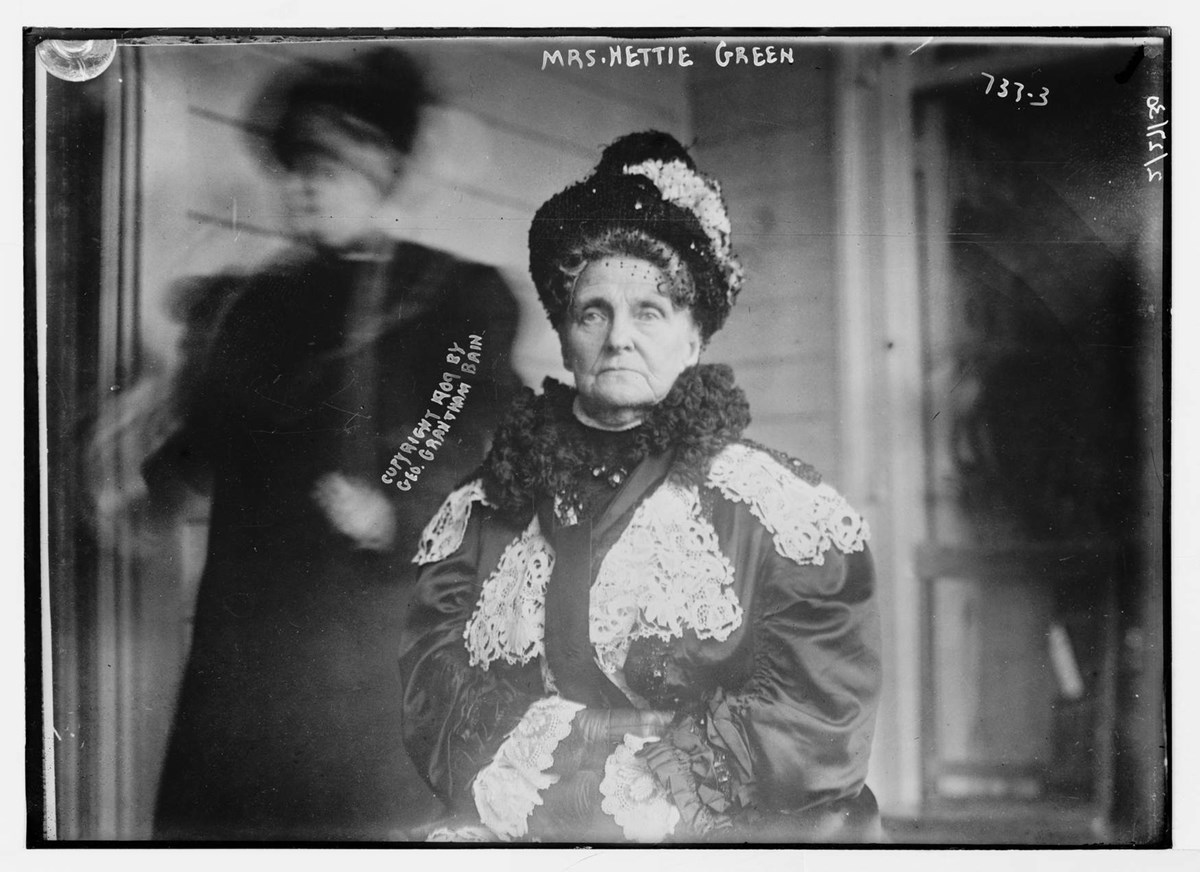 Hetty Green was born Henrietta Howland Robinson on November 21, 1834. Her father, Edward Mott Robinson was a successful New Bedford whaling agent, oil manufacturer, and Quaker. Her mother, Abby Howland, was the daughter of Isaac Howland Jr., another successful whaling merchant.

Growing up in a family of industry titans, Green would become a financial genius in the areas of real estate, railroads, and money lending. By age six, she read the financial pages to her grandfather and father, both of whom had failing eyesight. At age 15, she became her father's bookkeeper, although she was not entirely happy with her work responsibilities.

"I was forced into business, I was the only child of two rich families and I was taught from the time I was six years old that I would have to look after my property," she told Dorothy Dix, one of America's great early journalists, years later.

Green inherited $5 million at the age of 30. As an adult, she devoted her life to the acquisition of money. She even challenged the will of her aunt, Sylvia Ann Howland, for the remaining $2 million estate of her grandfather Isaac Howland, Jr. The 1864 version of Howland's will split the estate between Green and a number of indiviuals and institutions. In the court case Mandell vs. Howland, Green challenged the will by providing a version dated 1862; the earlier will left Green the estate outright and stated that all later wills were null. Executor of the will, Thomas Mandell, rejected Robinson's claim and accused her of forgery.

While shades of illegality, forgery in particular, shadowed some of her business dealings, Green's wealth came from her investments in the stock market. She earned the name "Witch of Wall Street" by buying stocks cheap and waiting for prices to rise before selling them. She them used the money to purchase railroads, banks, and real estate. At the end of her life, the $7.5 million that she had originally inherited from her father had ballooned to between $100 and $200 million, making her an icon of the "the Gilded Age" of American wealth at the expense of labor.