Call for Artists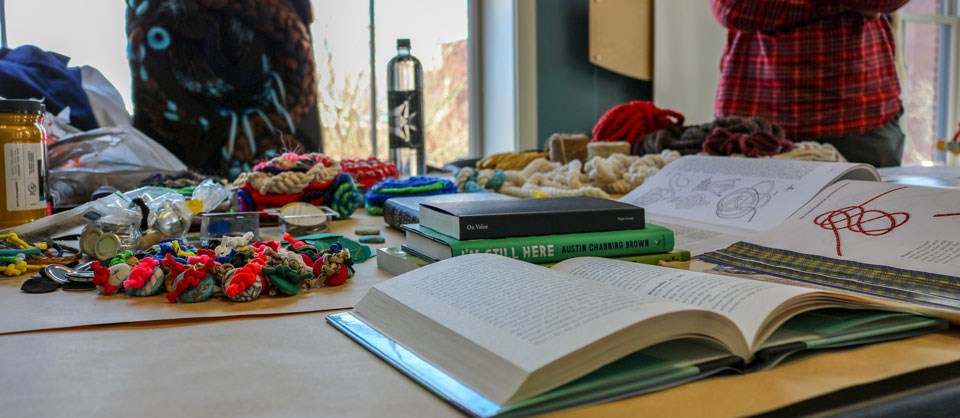 Call for Artist-in-Residence (April 1 - June 30, 2020)
All applications must be submitted through publicartist.org. Please visit their site and look for the call entitled,"New Bedford Whaling National Historical Park - Artist in Residence (April 1 - June 30, 2020)" We will not accept paper or emailed applications. If you have any questions, please contact Lindsay Compton at e-mail us
Budget $2,500
The National Park Service at New Bedford Whaling National Historical Park seeks innovative artists from across disciplines to participate in our residency program. Artists in the program will be challenged to look to New Bedford as a source of inspiration for their work; exploratory possibilities include, but are not limited to: heritage, ecology, identity, and community. The residency will immerse participants in different modalities of site-specific creation, with civic engagement at its core.
The highest consideration will be given to artists that engage with the following prompt:
New Bedford Whaling National Historical Park seeks submissions from New England-based artists interested in exploring topics connected to women's rights or work inspired by untold stories of women in the United States.
In 2020, as a nation, we will celebrate the 100th anniversary of the ratification of the 19th amendment, which guaranteed some women access to vote. As we look at the struggle for women to gain the right to vote, what stories do we often leave behind? What women gained the right to vote in 1920? What women were left out, or actively pushed out of the Women's Suffrage movement? What struggles persist today?
Do you find power in telling the stories of women? Are you inspired by activism and advocacy of women? Are you inspired by underrepresented stories? Are there women in the New Bedford area that inspire your work? Could you create place-based artwork inspired by radical women of the South Coast?
Budget Description
Artists will receive three monthly installments of $833.33 over three months, totaling $2,500 for the residency.
Please note: housing is not included in this residency.
Project Description
Artists will work in the Corson Makerspace, a redesigned facility on the second floor of New Bedford Whaling National Historical Park. Artists are expected to occupy the space a minimum of 10 hours per week. The artist will work with the park to determine how many of those hours will be open studio. Access to the space will be during our operating hours, which are 9:00 AM to 5:00 PM every day. Our program is distinguished by the distinctive opportunities we offer participants: a $2,500 stipend, both studio and exhibition space, personalized professional development, promotional support and material fee waivers. Applications are competitive, and only one resident will be selected per session. In the application, artists should be sure to outline the scope of their prior work, the role of the residency program in further developing their work, how New Bedford will serve as a source of inspiration, and their plan for public engagement. Strongest consideration will be given to artists who engage with all the components of our residency program. We especially encourage graduate and professional artists living in New Bedford to apply.
Artwork Goals
We believe that art should be accessible to all people and that it is the artist's role to act as a catalyst for both inspiration and radical inclusion. As such, artists will be expected to offer a series of public workshops, talks, or demonstrations while participating in our program. Possibilities range from children's craft days, to meet and greets over coffee, to Q&A sessions. Park personnel are available to help artists brainstorm, facilitate, and implement outreach and program ideas. These events should occur on AHA! Nights (http://www.ahanewbedford.org/), weekends, or school vacation days-- all events will be free and open to the public.
Selection Process
The applications will be rated and paneled by a combination of former Artists-in-Residence and local art professionals. For details on the selection timeline please refer to the announcement link.
Selection Criteria
Highest consideration will be given to artists whose proposals engage with the prompt listed above, and New England-based artists.
Last updated: January 22, 2020