Casimir Pulaski Memorial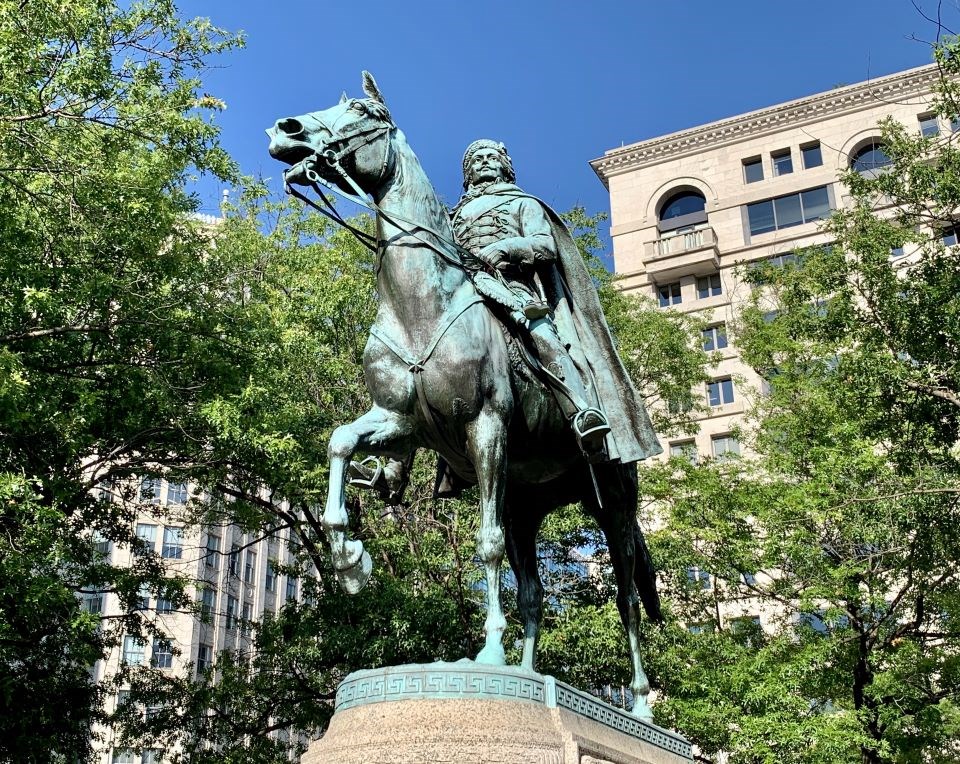 Near Freedom Plaza on Pennsylvania Avenue sits the statue to the Polish-American Revolutionary War hero, Casimir Pulaski. Pulaski was born of Polish nobility in 1745 in Warsaw, Poland, and began a military career in 1762. Two years later, Pulaski's family joined other Polish nobles in revolting against the Russian-backed Polish king. During this uprising, Casimir Pulaski commanded cavalry units in battles against Russian and Polish forces. After a failed plot to kidnap the King of Poland, Pulaski fled to Paris where he met Benjamin Franklin. Franklin convinced him to join the patriot cause in America. On July 23, 1777, Pulaski arrived in Boston and met with General Washington a month later. Pulaski faced challenges as he spoke no English and needed a translator. Washington was impressed by his cavalry skills, though, and he recommended that Congress give Pulaski command of the Continental Cavalry. The Continental Congress expressed reluctance to give him this role, but Washington kept him on as a volunteer aide.
On September 11, 1777, Pulaski saw his opportunity at the Battle of Brandywine. During the battle, the British army outflanked the right wing of the Continental line. With his army overwhelmed, Washington decided to retreat. Pulaski convinced Washington to give him a cavalry unit to engage the British army. This maneuver helped to give the retreating army time to escape. His efforts helped to save Washington and his army, and Congress rewarded him by making him a Brigadier General in command of the Light Dragoons. Over the next several months, Pulaski led his cavalry in several battles, but became frustrated with his limited role.
Washington allowed him to create a new cavalry unit, Pulaski's Legion, and sent them to help with the defense of Charleston, South Carolina. His efforts impressed the patriot and French commanders there and they included him in the campaign to retake Savannah. On October 9, 1779, the combined forces attacked the British in Savannah, but it was disastrous. Pulaski attempted to rally the French forces but a grapeshot hit him in the upper thigh. Patriot forces brought him to a ship on the Savannah River where he died several days later. Debate has long swirled around the location of Pulaski's burial, with some historians asserting that he was buried at sea. In 1853, remains thought to be his were discovered and moved to Monterey Square in Savannah, with a 55-foot-tall marble monument to his memory built there the following year. In 2019 DNA testing by the Smithsonian Institution confirmed that the remains are mostly likely those of Pulaski.
Pulaski's legacy remains with us today. He is remembered as the "Father of the American cavalry," with numerous towns, counties, naval vessels, monuments, and a Civil War-era fort in Savannah, Ga., named after him. Many Polish-Americans see him as a hero and celebrate him every year in Chicago and other cities on Pulaski Day (the first Monday in March). In 2009, the United States Congress and President Obama recognized Pulaski with honorary U.S. citizenship, only the seventh person to be accorded that honor.
In 1903, Congress authorized a monument to be built in his honor on Pennsylvania Avenue. Polish sculptor Kazimierz Chodziński designed the 9-foot-tall bronze equestrian statue of Pulaski with the aid of architect Albert Ross. Pulaski is depicted in the uniform of a Polish marshal, which he preferred wearing rather than the uniform of the Continental Army. Inscribed on the granite pedestal are the battles Pulaski participated in along with a brief biography. On May 11, 1910, President William Howard Taft, the Polish National Alliance, and other dignitaries dedicated the statue. During the ceremony, Francis Pulaski, a descendant of the Pulaski family, said of his distant relative, "He brought to your shores his bravery and his military talents and offered them for the defense of your ideals and your independence."
Last updated: August 2, 2022