World War I Memorial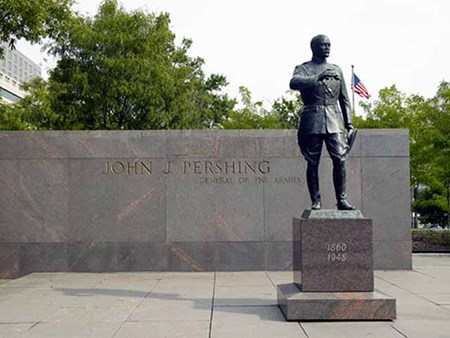 John J. Pershing devoted his life to serving his country and remains most deserving of his memorial along Americas Main Street. Pershing saw service along America's western frontier, during the Spanish-American War and in Mexico before he commanded the American Expeditionary Force sent to Europe in 1917. During his service in Mexico in 1915, he received word that a fire at the Presidio in San Francisco, California took the lives of his wife and three daughters, sparing only the life of his son, Warren. Pershing somehow recovered from this tragedy with enough strength to lead American forces to victory in World War I. He resisted calls to distribute American forces among Allied units, preferring to preserve the fighting integrity of American units. The A.E.F.s bravery remains immortalized here upon engraved granite panels as an enduring testimony of the American spirit to later generations.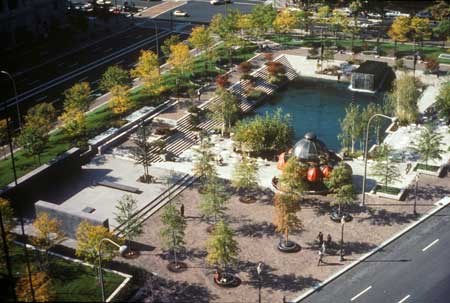 An oasis within the heart of the thriving capital city, Pershing Park offers opportunities for both relaxation and remembrance. It is here where one may pause to honor John J. Pershing, whose World War I leadership propelled him to the rank of General of the Armies a rank he shares only with George Washington.
Pershing Park covers a 1.76-acre trapezoid-shaped landscape designed by M. Paul Friedberg, with later revisions by Oehme-Van Sweden; it lies within an area bordered by Pennsylvania Avenue and 14th, 15th and E Streets, NW. Pershing Park was dedicated on May 14, 1981.
Last updated: April 13, 2021