Edmund Burke Memorial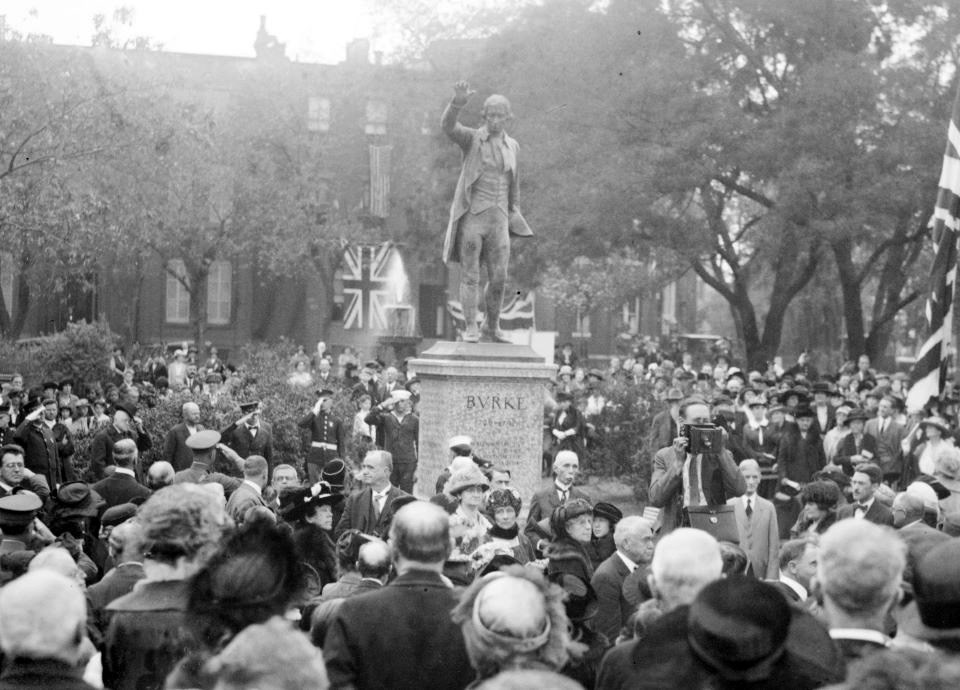 Revolutions make for strange bedfellows. That is perhaps why there is a statue of 18th century British parliamentarian Edmund Burke at the junction of 11th Street NW and Massachusetts Avenue. This Enlightenment era philosopher was America's main ally in Great Britain. He defended our call for liberty from within the British Parliament. As a sign of esteem for his support Burke is now honored in the American capital city.
Edmund Burke was born in Dublin, Ireland in 1729 to a prestigious old family. He stood on the divided line of religion coming from a family split between Catholics and Protestants. He followed the Protestant Anglican church but spoke up for the rights of Catholics who at the time were disenfranchised under British law. After graduating from Dublin's Trinity College in 1748 Edmund Burke moved to England to study the law in London. Although Burke never ended up practicing law he would become one of the great philosophers of the Enlightenment. Having first been elected to Parliament in 1765, Burke would serve there for 30 years representing three different constituencies.
During the years of the American Revolution, Burke's Whig Party was out of power. Lord North's Tory Party chose to unfairly tax the American colonies. These taxes were to be levied on the colonies without their consent or any representation. Edmund Burke regarded these high-handed moves to be incompatible with the traditions of British liberties. Furthermore, at the time Burke was representing the great trading port of Bristol that was reliant on free trade with America.
Burke spoke out in Parliament on behalf of the Americans. While he did not go so far as to endorse a split between America and Britain, he was one of the first to recognize that a separation would be the result should Britain not change its ways. He knew that a violent response by the British army to American demands would make independence all but inevitable.
When the conflict boiled over from arguments over taxation and representation into America's strive for independence Burke tried to broker peace. Postwar Edmund Burke would encourage trade and peaceful relations with the independent United States of America. Burke was also impressed by how many elements of the British system of laws would be reflected in the United States Constitution. Edmund Burke after a long and distinguished career died in Beaconsfield, England in 1797.
The statue of Edmund Burke in Washington, DC is a copy of an 1894 statue in Bristol, England. The original was cast by a Welsh sculptor named John Harvard Thomas. His work was known for its incredibly detailed depictions. In the wake of America and Britain allying themselves in the fight for freedom in World War I, the statue of Burke was presented to America in 1922 by the Lord Mayor of London Charles Wakefield. It is there to remind us of the old ties between America and Britain as well as the enduring friendship that has evolved between these two great countries.
Last updated: October 6, 2021