National Park Service Announces Plan to Turn Abraham Lincoln Statue Around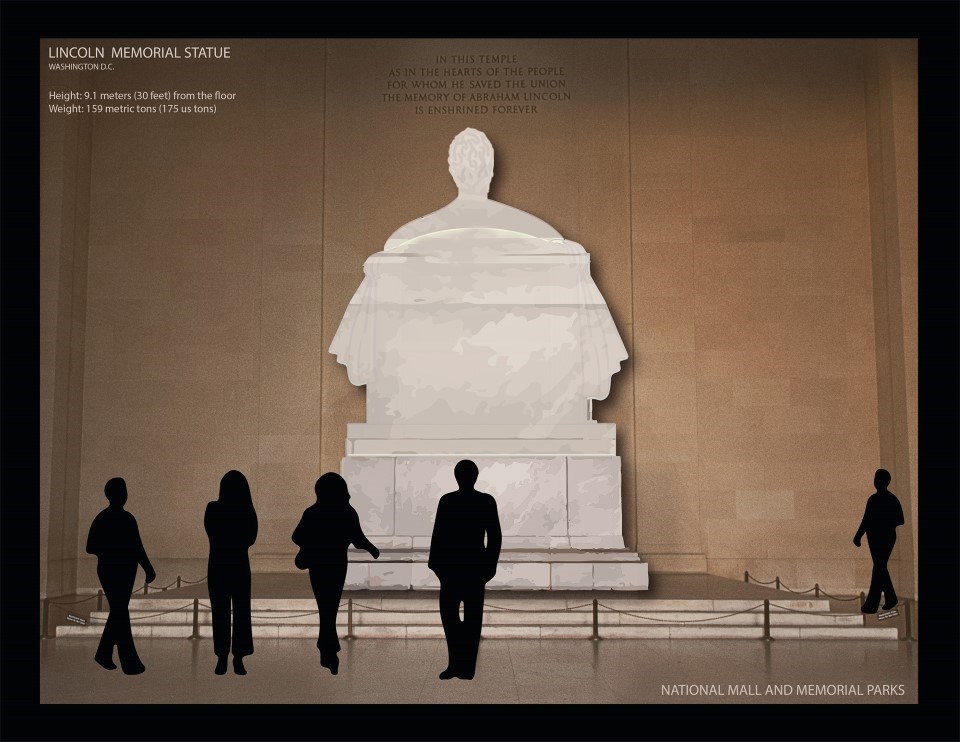 A
s the Lincoln Memorial approaches its 100th anniversary in May of this year, the National Park Service has unveiled a proposal to ensure the preservation of the colossal statue of the nation's 16th president well into its second century. Under a plan announced this morning, the seated marble figure of Abraham Lincoln would be rotated 180 degrees, so that the backside of the statue would face the colonnaded entrance to the memorial.
P
reservationists are concerned that the statue, constantly subject to the elements in the open-air memorial and exposed to direct sunlight each morning, is aging unevenly and the front mayeventually fade, not unlike DaVinci's
The Last Supper
or Coolidge's
Dogs Playing Poker
.
R
ather than let nature continue to take a toll on Daniel Chester French's masterpiece, the National Park Service convened a blue-ribbon panel of historic architects, art conservators and HGTV interior decorators to study the process and make recommendations. Their exhaustive report, presented to the National Park Service on President's Day, outlines their preferred alternative for protecting the statue.
I
n the summer of 2022 the National Park Service would rotate the statue 180 degrees, so that the back of the statue would face the chamber's entrance, and the front of the statue would face the memorial's back wall. This action would not only relieve the front features from ongoing deterioration but would give the public an opportunity to admire some of the lesser-known features of the statue that are often overlooked, including Lincoln's wavy hair and the United States flag draped over the back of the chair upon which Lincoln is seated.
L
ess popular was the commission's alternate proposal, which would place the statue on a turntable, allowing it to be rotated throughout the day. Officials dismissed the more expensive Lazy Susan Proposal as "dizzying" and "too Las Vegas."
F
unding for the improvements to the memorial is expected to come from public-private partnerships with appropriate Lincoln-themed sponsors, including the Lincoln Motor Company and National Toy Hall of Famer Lincoln Logs. The city council of the capital of Nebraska is also considering signing on to the project.
O
nce the back of the statue has been determined to have aged to approximately the same level as the front, the statue will be rotated back to its original position. There is no time frame to return the statue to its original position, but officials estimate it likely will be no longer than 100 years.
O
verall, National Park Service officials are pleased with the way the statue of Abraham Lincoln has fared in its first century on display. They point out that all of the statue's features are intact,unlike the Great Sphinx of Giza, the Venus de Milo and other so-called "masterpieces" that have fallen apart and lost appendages over time.
L
incoln, in addition to being president during the Civil War, was well-known for his folksy sayings, one of which, according to legend, was "You can fool all the people some of the time and some of the people all the time, but you cannot fool all the people all the time."
Last updated: April 1, 2022