Fishing
There are several public fishing sites within National Mall and Memorial Parks. Constitution Gardens Lake is located in downtown Washington, D.C. and has been designated for catch and release fishing only. Within the 6.75 acre lake, there are populations of large mouth bass, bluegill, and black crappie.

Fishing is also allowed along the banks of the Tidal Basin, the Potomac River in West Potomac Park, and the Potomac River and Washington Channel in East Potomac Park.

A District of Columbia fishing license is required for residents and visitors alike to fish in all of these areas. Once licensed, anglers must maintain possession of the license while angling and shall display the license at all times. For information on obtainining a D.C. fishing license, visit the D.C. Department of Energy and Enivronment website.

Although contaminant levels in fish in the District of Columbia have improved, DC has issued a fish consumption advisory. The advisory provides recommendations on how much of a fish species you should consume each month. There are also additional guidelines on the best way to prepare fish to avoid contaminants.

The northern snakehead (channa argus) is a non-native predatory fish that is found in the Potomac River and tributaries. If you are not going to consume snakehead when you catch it, DO NOT RETURN IT TO THE WATER. Snakeheads should be immediately killed by removing the head, removing all vital organs, or removing both gill arches, bagged and disposed of in a trash can.

For more information about fishing within the National Park Service areas across the country click here.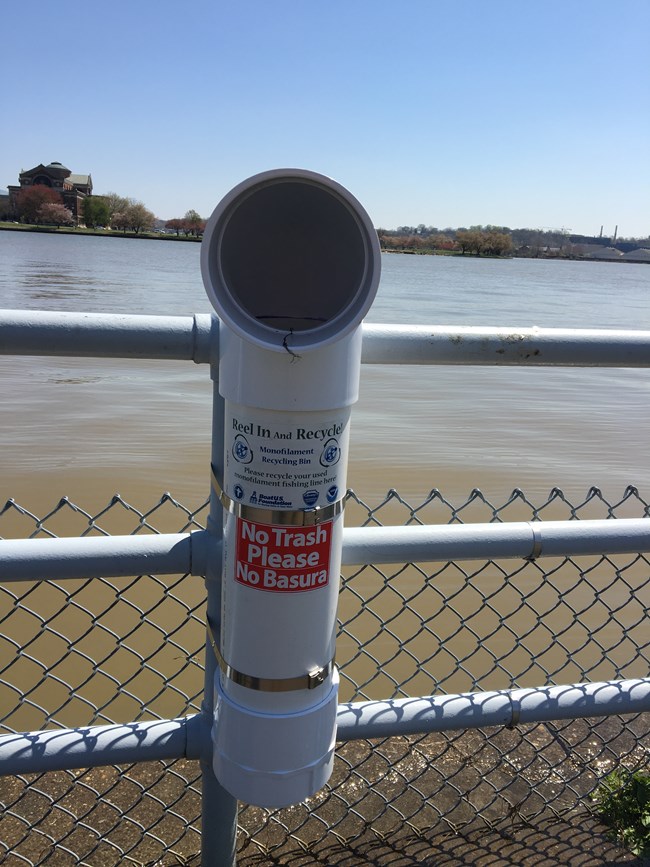 National Mall and Memorial Parks has installed 6 monofilament (fishing line) recycling containers in East Potomac Park, just in time for Earth Day. The containers are found along the Ohio Drive/Hains Point loop where many anglers enjoy fishing. The containers are designed to keep monofilament out of the environment where it can entangle fish and wildlife. The line is then sent off to to be recycled. Thank you for helping keep our parks and waterways clean.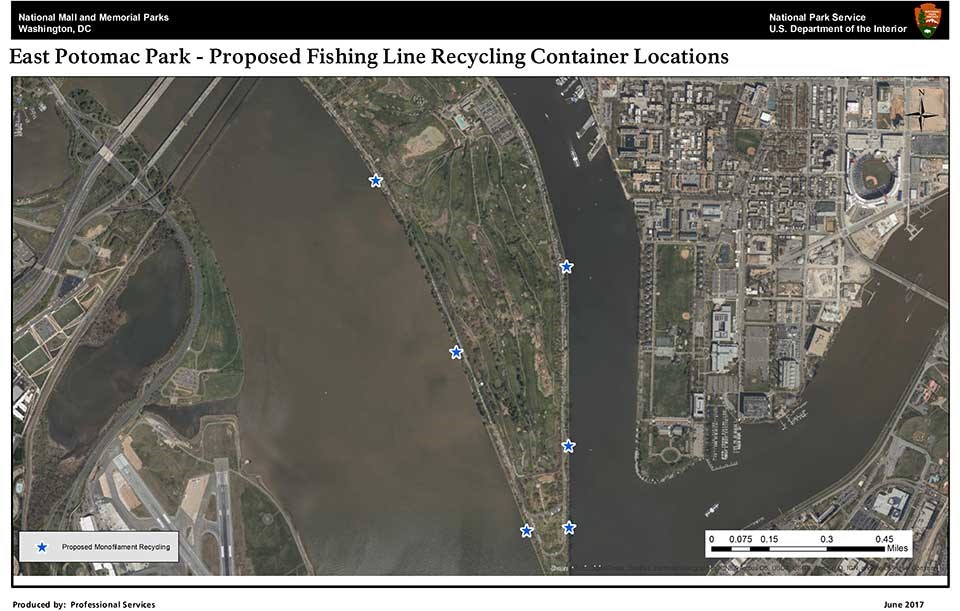 Last updated: June 1, 2018