Air Quality
The National Mall and Memorial Parks includes roads used by both visitors and commuters. Vehicular emissions include such pollutants as nitrogen and sulfur oxides, carbon monoxide, and the major greenhouse gas contributors, carbon dioxide and ozone. For information about today's air quality at the park, visit the NPS Air Resources website. NPS hosts an air quality monitoring station at the National Capital Region Headquarters, on Hains Point, to support the District's data gathering. For information on air quality monitoring in DC, please view the District Department of the Environment website.
The park has a policy of encouraging multi-modal transportation at the park, in order to decrease congestion and emissions from individual gas combustion vehicles. Recent initiatives include the installation of bikeshare stations throughout the park and inclusion of pedicabs and Segways in the accepted park transportation system.
How you can help, at the park and at home: seek low- or no-emission methods of transportation, such as bicycles and walking, or use mass transit such as metro and buses to travel to the park and other destinations.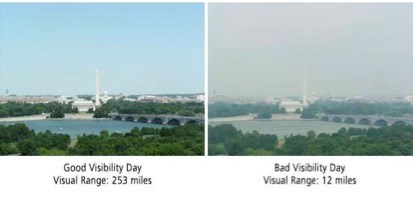 Views of the nation's capital on good/bad days.
Last updated: April 10, 2015