For Kids
At the National Mall and Memorial Parks, kids can become a Junior Ranger and earn their very own junior ranger badge!
Occasionally, special activities are available for kids. Check the Schedule of Park Events for upcoming ranger programs and junior ranger activities.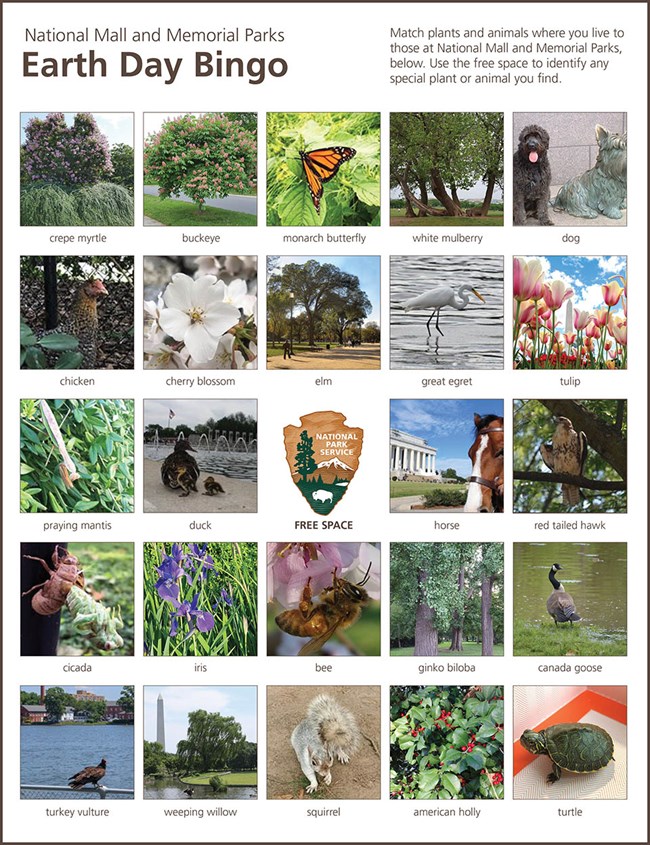 Help the National Park Service celebrate the 50th anniversary of Earth Day by becoming citizen scientists. National Parks keep a close eye on their natural resources so that they can document any changes and fix any problems. You can do the same in your own backyard or neighborhood park while having fun at the same time. All you have to do is simply look around.
To get started, use the bingo card to compare plants and animals found in your neighborhood to ones found at National Mall and Memorial Parks. The free space in the center of the card is wild and can be used to identify a resource local to your area. Once you have completed a bingo pattern, you can design your own Junior Ranger badge and create your own pledge. You can also create your own bingo card using pictures of plants and animals in your area. Share on the National Mall's social media page
facebook.com/NationalMallNPS/
if you like!

Last updated: April 21, 2020