Volunteer
Welcome to the National Mall and Memorial Park's Volunteers-In-Parks (VIP) Program!
The mission of the National Mall and Memorial Parks' Volunteers-In-Parks (VIP) program is to empower a diverse community of volunteers to contribute their skills and knowledge through rewarding, engaging, and mutually beneficial experiences to help NAMA achieve its mission.
The volunteer program would like to share some important information about our current operating status, the status of volunteer activities this spring, and links to updated COVID-19 health and safety information. We want you to know that we appreciate your patience as well as your eagerness to return to the park—we miss you! As always, the health and safety of our visitors, volunteers and staff are our highest priority, and we want to be sure that we are able to maintain safety while we start moving toward a more fully-functional operating status.

While we do have a very limited number of opportunities to serve, the bulk of volunteer activities still remain suspended, and will not return until the District of Columbia reaches Phase 3 of the pandemic recovery process (access D.C. Coronavirus-related information here). Current open volunteer opportunities include: (Moving forward we will emphasis three distinct volunteer roles: beautification, orientation, and interpretation support)
Individual volunteers at the Dwight D. Eisenhower Memorial
Individual volunteers at the following kiosk locations: Vietnam, MLK, Smithsonian Metro, and WWII memorials (orientation)
Individual volunteers at constitution gardens, German-American Friendship Garden, and more as needed for beautification activities
Wall Washing at the Vietnam Veterans Memorial and the American Veterans Disabled for Life Memorial; the logistics for these bi-weekly and monthly opportunities are still being worked out. We are hoping to provide opportunities to participate to both individuals and small groups. The Korean War Veterans Memorial will not be part of the program this year due to upcoming renovations, however the site is still open to visitors.
Special requests: we will occasionally have special requests from various park divisions for volunteer support.
Virtual Volunteering: A number of ideas are under development. Some volunteers are doing research and development of tours from home—those hours count! A number of volunteers have also participated in accessibility efforts, such as audio description for apps and brochures.
We thank you for your continued patience as we steadily assess how we can safely welcome everyone back to the park. And as always, please let us extend our gratitude for your energy, enthusiasm, and ongoing commitment to our national parks.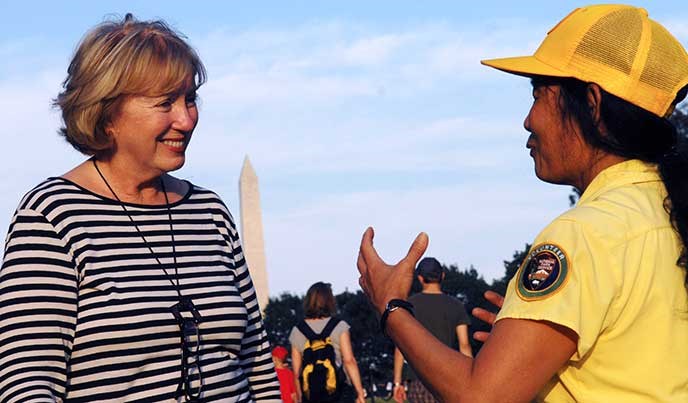 Current Volunteer Opportunities
Last updated: April 7, 2021