Volunteer
Welcome to the National Mall and Memorial Park's Volunteers-In-Parks (VIP) Program!
The mission of the National Mall and Memorial Parks' Volunteers-In-Parks (VIP) program is to empower a diverse community of volunteers to contribute their skills and knowledge through rewarding, engaging, and mutually beneficial experiences to help NAMA achieve its mission.
National Mall and Memorial Parks has lots of exciting ways to get involved by volunteering! VIPs are truly Very Important People who help us achieve our mission by keeping the park safe, educating others, and preserving it for future generations to enjoy. Join the ranks of the thousands of volunteers throughout the entire National Park Service by starting right here on your nation's front lawn!
Opportunities abound for just about everyone, whether you are a history buff, or perhaps enjoy the more natural side of things. You may enjoy riding the rails and want to get involved in the Trails and Rails program, or you might like getting your hands dirty -pulling weeds or painting benches with your group of co-workers or friends. We also need help with the many large-scale events that take place on the National Mall, such as the Cherry Blossom Festival and the Independence Day Celebration. Whether you like working with the public, or being more behind the scenes, we might just have an opportunity for you!
We provide extensive training for all of our volunteers, and do our best to ensure that you have a wonderful experience. We truly could not make it without our volunteers. They are an invaluable resource for National Mall and Memorial Parks, and we are so appreciative for all of their hard work and dedication. In 2018, volunteers donated over 50,000 hours of service valued at more than $34 million!
Click here to view the current opportunities. The listing will take you to Volunteer.gov, where you can learn more and apply on line.
We hope to hear from you soon!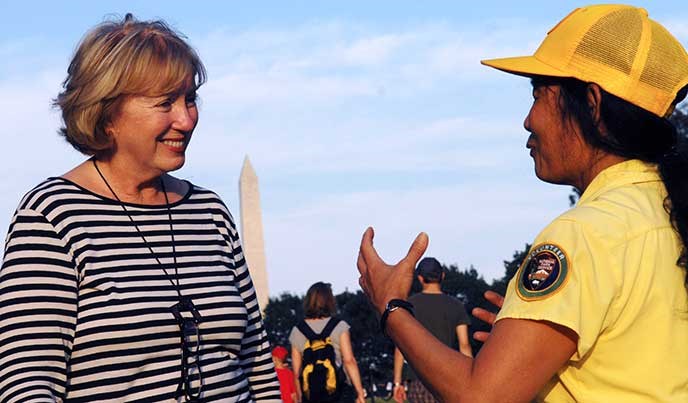 Current Volunteer Opportunities
Last updated: April 20, 2020