Plein Air Art Competition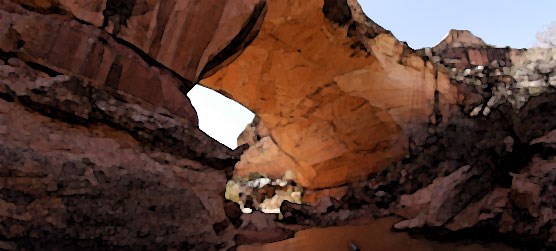 ANNOUNCING THE PLEIN AIR ART COMPETITION
100 Years Of National Parks In Utah
August 29 to August 31, 2008
Juror
Donna Poulton, PhD
Associate Curator of Utah and Western Art (Utah Museum of Fine Art)
Adjunct Professor of Art History (University of Utah)
Display Venues
Edge of the Cedars Museum (Blanding, Utah)
Dan O'Laurie Museum of Moab (Moab, Utah)
Awards
Best in Show: $750
2nd Place: $400
3rd Place: $250
PROSPECTUS
On April 16, 1908, President Theodore Roosevelt proclaimed the establishment of Natural Bridges National Monument in southeast Utah. Having been the first National Park Unit created in Utah, Natural Bridges set the precedent for the creation and protection of the rich network of national parks and monuments that Utah offers today. In 2008, the Monument celebrates its 100th anniversary, and 100 years of the spirit of conservation and recreation in Utah.
As part of our year-long celebration of this centennial partnership between National Parks and Utah, National Bridges National Monument and the Canyonlands Natural History Association are hosting a Plein Air Competition. The competition will be offered over a three-day period, beginning Friday, August 29th and ending Sunday, August 31st.
Please join us in this historic event and help celebrate 100 years of national parks in Utah!
Download Application [68k PDF file]
JUDGING AND PRIZES
Submissions for the competition will be judged by art scholar Donna Poulton, PhD, Associate Curator of Utah and Western Art, Utah Museum of Fine Art; and Adjunct Professor of Art History at University of Utah. Dr. Poutlon is co-author of the art book Utah Art, Utah Artists (2001), and of an art book on Red Rock Country, to be published in June 2008.
Judgment of the entries will be in two stages:
Through JPEG digital images for initial qualification into the show.
Personal inspection of qualified artworks for determining finalists.
Approximately 25 to 30 artworks will be selected for the show. Prizes will be awarded as follows:
Best in Show: $750, Ribbon and Certificate
2nd Place: $400, Ribbon and Certificate
3rd Place: $250, Ribbon and Certificate
Honorable Mentions: Ribbon and Certificate
DISPLAY VENUES
The selected qualifying artworks will be displayed in succession at two venues: Five weeks at Edge of the Cedars State Park, located in Blanding, Utah, the gateway town to Natural Bridges, and six weeks at the Dan O'Laurie Museum of Moab in Moab, Utah.
ELIGIBILITY
The competition is open to all artists, 18 years of age and over. Employees of the National Park Service and Canyonlands Natural History Association, and their families, may enter but are ineligible for awards.
CRITERIA
Up to two artworks may be submitted.
Work 1: completed on scene, in plein air, within the boundaries of Natural Bridges National Monument.
Work 2: an optional second work, intended to celebrate some of the diversity of Red Rock Country and its National Parks. It must be completed on scene in plein air, within any of the following parks in the Southeast Utah Group: Canyonlands National Park, Arches National Park or Hovenweep National Monument.
The addition of these three latter national parks is intended to give variation to the art show. For purposes of judging and selecting winners and inclusion into the show, the works of all four of the parks will be considered equally without preference to Natural Bridges.
The one or two artworks must be completed and submitted over the three-day period. Artwork cannot be created or worked on outside the National Parks, or generated from reference to photos. No props may be used. Additions of wildlife, people, historic activity may be added into the artworks, but they must be secondary to landscape or actual historic structures present, and must be historically/ecologically accurate. Styles may range from realism to semi-abstract, and must be in keeping with the impromptu style of plein air. Deviation from or failure to meet these criteria may result in disqualification.
FORMAT
Original two-dimensional art in any medium will be accepted. No sculpture, photography or computer generated artwork will qualify for entry. Canvas/paper plus frame shall be less than or equal to 30" in any one direction.
APPLICATION
To be eligible, applications should be received by August 15, 2008 (two weeks prior to the event).
Download Application [68k PDF file]
A $30 registration fee will assist in covering the cost of the juror, prizes and logistics.
Please mail applications to:
Moab Arts and Recreation Center
111 East 100 North
Moab, Utah 84532

PROCEDURE
Upon the artist's first-day of arrival during the competition, the artist must report to one of two check-in/collection stations. Upon completion, artworks must be turned in to either of the same check stations. Station locations and hours are as follows:
Northern Check Station
Moab Arts and Recreation Center
111 East, 100 North
Moab Utah 84532
Tel: (435) 259-6272
Hours
Friday, August 29: 8:00 am to 12:00, 3:00 pm to 7:00 pm
Saturday, August 30: 8:00 am to 12:00, 3:00 pm to 7:00 pm
Sunday, August 31: 8:00 am to 12:00, 3:00 pm to 7:00 pm
Monday, September 1: 8:00 am to 12:00 noon
Southern Check Station
Natural Bridges National Monument Visitor Center
Highway 275 (off of Route 95, approximately 35 miles west of Blanding)
Tel: (435) 692-1234
Hours
Friday, August 29: 8:00 am to 6:00 pm
Saturday, August 30: 8:00 am to 6:00 pm
Sunday, August 31: 8:00 am to 6:00 pm
Monday, September 1: 8:00 am to 12:00 noon
Canvasses/paper surfaces must be stamped on the back by a Collection Center attendant to verify that the canvas was blank upon initial check-in. Up to 6 canvasses/paper surfaces may be stamped (though only 2 may ultimately be submitted).
Contestants will be given an orientation, and advised of off-road, off trail travel restrictions. Entrance into any of the parks requires a pass or entrance fee in addition to the application fee.
All finished works must be hand delivered to either of the two the Check-in / Collection Stations by noon on Monday, September 1st, the day after the three-day competition period. Any artworks without the entry stamp on the back will not be accepted. Artworks must be framed, with picture hanging wire attached (no saw-tooth hangers).
Artist must supply a JPEG digital image of the artwork, or have collection center staff digitally photograph the work. Submitted JPEG images must be accurate representations of the artwork with no enhancements or alterations. Failure to meet these criteria may result in disqualification.
The winners and other artworks qualifying for display in the show will be determined by September 20th. Artists will be contacted with the outcome by email or telephone.
PUBLIC SHOWING
The art show will open at Edge of the Cedars Museum in Blanding, with public announcement of the winners at the show's opening, on September 27th. The show at Edge of the Cedars will run until about October 31st.
Edge of the Cedars State Park and Museum
660 West, 400 North
Blanding, Utah 84511
Tel: (435) 678-2238
The show will then be moved to Museum of Moab. The show at Museum of Moab will run from about November 3rd, to December 13th, to include viewing during two Moab Art Walks (November 8th and December 13th). Dates may be subject to change.
Dan O'Laurie Museum of Moab
118 East Center Street
Moab, Utah 84532
Tel: (435) 259-7985
There will be no mechanism provided by the venues for selling the artworks. An information and contact sheet for all works included in the show will be available as a handout for visitors to the show; we will include names, contact emails and numbers of all artists who give us permission to do so. A binder book featuring all JPEG entries, those which qualified for the show and those which did not, excluding disqualifications mentioned above, will be available for viewing.
Upon closure of the show, the artists will be responsible for pickup or return shipment of their works. In-person pickup is welcome. For out of town artists, the main shipping couriers all service Moab. Contest organizers will not package artworks for shipment. One local business offers pickup, packaging and shipping services:
Moab Mailing Center
Moab, UT 84532
Tel: (435) 259-8432
Please feel free to call the organizers, Natural Bridges National Monument, or the Moab Arts and Recreation Center (MARC), with any coordination needs with these couriers. We can hand-deliver to Moab Mailing Center.
Last updated: December 16, 2017