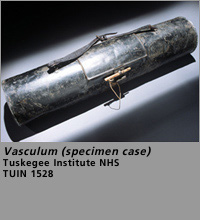 Carver was born a slave on a small farm near Diamond Grove, Missouri, in 1865, "near the end of the war." Moses and Susan Carver, his owners, reputedly opposed slavery. However, they needed labor to work their lands and acquired slaves, including Mary, George's mother.

There was a lot of unrest in Southwest Missouri at that time. As an infant, George and his family were kidnapped by bandits and taken to Arkansas. His mother was never heard from again. The Carvers gave a reward when young George was returned to them.
They taught him to appreciate nature, learning, and self-sufficiency. As a young man, George began a lifelong habit of taking long walks and observing and collecting specimens. "Day after day I spent in the woods...to collect my floral
Beautie(e)s...all sorts of vegetation seemed to thrive under my touch until I was styled the plant doctor, and plants from all over the county would be brought to me for treatment."

Starting from childhood, and throughout his life, religion played an important role. It broke down social and racial barriers for Carver and was the inspiration for his research and teaching. His beliefs were universal and didn't conflict with his scientific knowledge. In fact, the more Carver learned, the greater was his faith. "The Great Creator...permit(s) me to speak to Him through...the animal, mineral and vegetable kingdoms..." Carver was an active member of the YMCA, from his early college days to his last years.


< Previous Next >