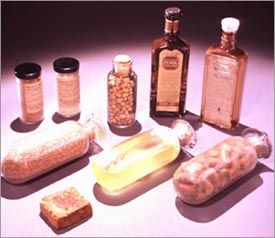 Products that were developed by George Washington Carver and made available commercially.
Carver recognized the nutritional value of peanuts and other legumes for rural African-American diets. He realized that peanuts, well adapted to the southern climate, were easy and cheap to grow and readily stored. Legumes also enriched the soil.
In the process of researching the peanut, Carver developed many peanut products and derivatives, including oil, flour, candy, and animal feed. He also explored the medicinal value of peanut oil for massage therapy. Even President Franklin D. Roosevelt noted that he used the peanut oil from time to time.
His work with the peanut brought Carver and Tuskegee national and international fame. As a recognized authority, he advised peanut growers and processors. In 1921, Carver gave masterful testimony to the House Ways and Means Committee on the many possibilities of peanut production and the diversity of its derivatives.
A cosmetic made from peanuts was one of the few patents he recorded. Carver worked alone in the lab and, unfortunately, left few formulas and records of his discoveries. Carver permitted the set up of a small cosmetics company named "Carvoline." A percentage of profits from the company were contributed to the Carver Foundation.
Lotion
Peanut oil, 8.4, W 3.2, L 2.4 cm
Tuskegee Institute National Historic Site, TUIN 385

Ermine Lotion
Made available by the Carvoline Company in Tuskegee, Alabama in 1940
H 13.3, W 5.8 cm
Tuskegee Institute National Historic Site
TUIN 1252

Rubbing Oil
Label reads "CARVOLINE RUBBING OIL, TESTED AND APPROVED IN DR. GEORGE W. CARVER LABORTIES [sic], CARVOLINE PURE PEANUT OIL....."
Peanut oil, H 11.8, W 5, D 3.5 cm
Tuskegee Institute National Historic Site
TUIN 1254

Ermine all purpose cream
H 6.1, D 6.6 cm
Tuskegee Institute National Historic Site
TUIN 1256

Hair dressing pomade
Jar of "CARVOLINE ANTISEPTIC HAIR DRESSING WITH PEANUT OIL & LANOLIN. THE CARVOLINE CO BIRMINGHAM, AL."