Clara Barton lived and worked in this house from 1897 until her death in 1912. It was built for her by brothers Edwin and Edward Baltzley, original developers of the Glen Echo community in Maryland and builders of the National Chautauqua in Glen Echo. The color images featured here were taken in 2008.

The structure dating from 1891, was first used as the American Red Cross warehouse. It was remodeled in 1897 to serve as the organization's headquarters and Clara Barton's home. It has three stories and 30 rooms and a basement that housed disaster supplies for victims of war and natural disasters, official Red Cross papers, and Barton's personal belongings.
The house is located seven miles from Washington, DC on a bluff overlooking the Potomac River.

The unusual structure and its contents reflects Barton's strong personality, work style, staffing and organizational needs of the American Red Cross.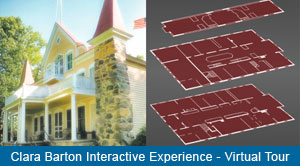 Exterior
Interior
Historic Photographs