History & Culture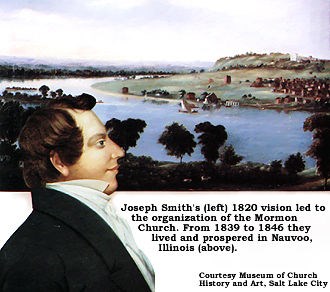 A Brief History
The story of the Mormon Trail is rooted in the beginnings of a unique American religion. In 1827, 21-year-old Joseph Smith announced that he had unearthed a set of golden plates, inscribed with the tenants of God's true church. Smith said that he had been directed to the plates by an angel named Moroni, who also had given him divine tools for translating the ancient inscriptions into English. Smith used these to produce new Scripture called the Book of Mormon. In 1830, in western New York, he organized a legal entity that would become The Church of Jesus Christ of Latter-day Saints. His followers, who regarded Smith as a prophet, became known as Mormons.
Important differences between mainstream Christianity and Mormon doctrine quickly emerged, but it was primarily hostilities over land, business, and politics that caused Smith repeatedly to move church headquarters. Driven out of Missouri in 1838, the Mormons finally settled along a bend of the Mississippi River in Illinois. There they established a community they called Nauvoo, a Hebrew word meaning "beautiful place." It was at Nauvoo that Smith cautiously began introducing the Old Testament practice of "plural marriage," or polygamy, among select church leaders.
Thousands of converts flocked to Nauvoo, soon making it the largest town in Illinois. Neighbors initially welcomed the orderly, industrious settlers despite their religious differences. But relations gradually soured, with complaints centering on Mormons' clannish business practices, accusations of theft, their electoral sway, and Smith's political aspirations. Meanwhile, dissent emerged within the church as rumors leaked of secret plural marriages. After an opposition newspaper publicly accused the prophet and other leaders of polygamy, Nauvoo's city council and Smith declared the paper a public nuisance and Smith ordered destruction of its press. For that he and others were arrested and jailed at Carthage, Illinois. On June 27, 1844, a mob broke into the jail and murdered Joseph Smith and his brother Hyrum. Other vigilantes attacked Mormon farms around Nauvoo in an attempt to expel them.
Brigham Young stepped up as Smith's successor and began planning an orderly, spring 1846 evacuation of some 15,000 faithful to the Great Basin, Mexican-held territory beyond the Rocky Mountains. However, as anti-Mormon violence heated, Young decided to organize a vanguard of church leaders to depart in late winter, hoping that would pacify the vigilantes until the main body of Mormons could start west in April. On February 4, 1846, the first wagons ferried across the Mississippi to Iowa. This group halted after five miles and set up camp at Sugar Creek for a lengthy wait as Young and his associates concluded business at Nauvoo. Meanwhile others, anxious not to be left behind, drifted over to join the Sugar Creek camp. Young's vanguard company unexpectedly swelled from his intended 1,800 emigrants to around 3,000—many without their own wagons and provisions.
On March 1, 1846, some 500 Mormon wagons lurched northwesterly across the winter-bare Iowa prairie toward the Missouri River. Their route is the Mormon Trail.
Links to more History
Stories of the Trail

Enrich your understanding and read the stories of the Trail: Click on the title or picture to read the entire article.

Places on the Trail

Interested in learning more or planning a visit? Take a look at places along the Trail.
More History
If you want to know even more, find books to read in our bibliography.
Dig into research related to the trail.
Last updated: July 10, 2020