Laws & Policies
Title 36 and the Superintendent's Compendium
Title 36 of the Code of Federal Regulations (CFR), Parks, Forest and Public Property, Part 1, provides for the proper use, management, government, and protection of persons, property, and natural resources under the jurisdiction of the National Park Service (NPS) {36 CFR 1.1(a)}. These regulations provide for the conservation of scenery, natural and historic objects, and wildlife, and to provide for the enjoyment of these resources in a manner that will leave them unimpaired for the enjoyment of future generations. {36 CFR 1.1 (b)} Under these regulations, each Park Superintendent has the discretionary authority to establish regulations that are more or less restrictive than a given regulation in certain instances. {36 CFR 1.7(b)}
In compliance with the CFR, one can download the Superintendent's Compendium for Monocacy National Battlefield or submit a written request for a physical copy to:
Superintendent
Monocacy National Battlefield
4632 Araby Church Road
Frederick, MD 21704
Federal Law
In addition, for your reference, the United States Codes, Title 16 (Conservation), Title 18 (Crimes and Criminal Procedure), and Title 54 (National Park Service) are available online.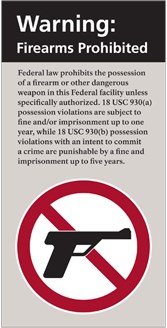 Firearms Regulation Effective February 22, 2010
Federal law allows people who can legally possess firearms under applicable federal, state, and local laws, to legally possess firearms in this park.
It is the responsibility of visitors to understand and comply with all applicable state, local, and federal firearms laws before entering this park. As a starting point, please visit our state's websites:
Maryland State Law

See Maryland Code, Public Safety, Title 5

See also Maryland Code, Criminal Law, Title 4
Federal law also prohibits firearms in certain facilities in this park; those places are marked with signs at all public entrances. See example at right. At Monocacy, these buildings include the Visitor Center, Gambrill House and Garage, Gambrill Mill, the Resource Management, and Thomas House buildings.


Last updated: June 8, 2020