Superintendent's Compendium
Superintendent's Compendium of Designations, Closures, Permit Requirements and Other Restrictions Imposed Under Discretionary Authority.

Approved: Andrew Banasik, Superintendent, May 24, 2021

In accordance with regulations and the delegated authority provided in Title 36, Code of Federal Regulations ("36 CFR"), Chapter 1, Parts 1–7, authorized by Title 16 United States Code, Section 3, the following provisions apply to all lands and waters administered by the National Park Service, within the boundaries of Monocacy National Battlefield. This Compendium is separate and apart from the NPS general regulations at 36 CFR Parts 1–6, which may be found on the NPS's website at www.nps.gov/applications/npspolicy/getregs.cfm and at the Government Printing Office's website at www.ecfr.gov. Definitions for terms used in the Compendium can be found at 36 CFR 1.4, which may also be found at the two above-listed websites.

Written determinations, which explain the reasoning behind the Superintendent's use of discretionary authority, as required by Section 1.5(c), appear in this document identified by italicized print.

In addition to the park website, signed copies of the Superintendent's Compendium for Monocacy National Battlefield are available at the park headquarters, from any Law Enforcement Ranger, email, or via a written request for a physical copy at:
Superintendent
Monocacy National Battlefield
4632 Araby Church Road
Frederick, MD 21704
Part 1 General Provisions
(a)(1) The following visiting hours, public use limits, and closures are established:

Visiting Hours
Visitor Center is open from 9:00 am to 5:00 pm daily, except Thanksgiving, Christmas, and New Year's Day.

The park grounds are open from 7:30am to 20 minutes after sunset daily, except Thanksgiving, Christmas, and New Year's Day.

The Monocacy NB library, curatorial, and archive facilities are available to researchers by appointment only.

The park may close with short notice, due to hazardous weather conditions, power outages or other circumstances that necessitate a shutdown.
Visiting hours are established based on the availability of park staff, to ensure an enjoyable and safe visitor experience, and to assure adequate protection of park resources. After hours use, nighttime activity and overnight parking, creates a number of impacts that would be inconsistent with the protection of park resources.

Public Use Limits -- Pursuant to §1.5(d) to implement a public use limit, the Superintendent may establish a permit, registration, or reservations system:

Park Administration Facilities
The following facilities are not open to the general public except by appointment, invitation, park sponsored event, or authorization of the Superintendent:
Thomas House office areas (4632 Araby Church Rd)—Park headquarters

Gambrill Mill (4801(C) Urbana Pike)—Major Acquisition Buying Office

Gambrill House (4801(A) Urbana Pike)—Historic Preservation Training Center Offices

Maintenance Facility (4801(B) Urbana Pike)—Park Offices
This measure is required to provide a safe and non-disrupting space for park employees to conduct business.
The general public is prohibited from possessing and/or consuming food and beverages (water bottles with a closable lid are permitted as long as they stay sealed while in the museum area) in the Visitor Center unless authorized by the Superintendent.
The Visitor Center contains historic artifacts and paintings and it has been determined that damage from spilled food and beverages pose an unacceptable risk to the resources and visitor satisfaction with the facility.
All persons entering buildings accessible to the public are required to wear shirts and shoes.
This measure is required in order to maintain a healthy environment for visitors and employees.
Leaving property unattended for more than 24 hours requires a permit except in designated areas.
Leaving unknown property unattended in the park area threatens public safety, the environmental/scenic values of the park, the natural/cultural resources of the park, and the orderly management of the park. Visitors seeking to leave property unattended outside of designated areas within the park must obtain a permit from the Superintendent.
Motor vehicles may only stop or park in designated parking areas or pull-offs along the roadway. No off-road operation or parking of motor vehicles is permitted except in designated overflow parking lots at the direction of park staff.
Parking or driving off designated roadways or parking facilities can create opportunities for erosion and otherwise damage park resources.

Closures:
MONO will be closed on Thanksgiving Day, Christmas Day, and New Year's Day.
This closure allows all park employees the opportunity to enjoy these holidays with their families and friends.
MONO, including all lands, roadways, and parking lots are closed to public access and overnight parking from 20 minutes after sunset until 7:30 a.m.

Exceptions:

NPS sponsored and approved public meetings, programs, and special events, scheduled to occur in the park after designated hours are exempt.

Only park living history volunteers (Volunteer Agreement or Special Use Permit required) are authorized access to their identified campsites- after designated closure hours.
After hours use, nighttime activity and overnight parking creates a number of impacts that would be inconsistent with the protection of park resources.

The following facilities/areas are closed to public access except with authorization from the Superintendent or during park sponsored special events:
Best Farm (5601 Urbana Pike)—Main House, Log House, Settlement House, Well House and the Corn Crib.

Worthington Farm (4236 Baker Valley Rd)—Main House and Storage Sheds.

Thomas Farm (4632 Araby Church Rd)—Smoke Houses, Well House, and Shed.

Thomas Farm (4460 Araby Church Rd)—Barn and Corn Crib.

Lewis East (4403 Baker Valley Rd)

Baker Farm (4235 Baker Valley Rd)—Driveway, Main House, Barns/Outbuildings, and yard area.

All areas signed or posted as "Closed," "Area Closed," and "Authorized Vehicles/Personnel Only."

Fields and buildings leased to farmers for planting crops, grazing livestock, or storing equipment.

Areas marked as resource monitoring plots.

The New Jersey monument area and the Junction parking lot.
Many of the historic structures located throughout the park are in a condition where closure is necessary to protect the resource and visitors from injury. Some of the structures are under permit to local farmers and contain personally owned farm equipment, which must be protected from damage, theft, and vandalism. Field areas are closed to prevent damage and destruction to crops, seedlings, and plants from visitor traffic. The Baker Farm is closed to the public because it is a private residence.
Park lands east of the Monocacy River and north of CSX railroad property are closed to public access.
This measure is required since there is no safe right-of-way across the railroad tracks for park visitor access to the area.
The pond located at the Gambrill Mill is closed to wading, swimming, or ice skating.
This measure is required to prevent detraction from the historic scene.
Balloons are prohibited in all park areas except building and vehicle interiors. Release of any type of balloon into the air is prohibited.
This measure is required to protect wildlife that may encounter and become entangled with or swallow punctured balloons.
Washing, repair, or maintenance of vehicles belonging to visitors (other than short-term emergency repairs) in public parking areas within the park is prohibited.
This measure is required to protect park's water supply and to prevent gray water/hazardous material from being released into natural areas.
The possession of glass bottles/containers is prohibited within 100 feet of the Monocacy River and Bush Creek.
This measure is required to reduce hazards from broken glass and waste from discarded cans, and to reduce the potential for water emergencies along the Monocacy River.
Public may not access CSX or MARC railroad property from battlefield roads, parking areas, trails, or other park property.
This measure is required to protect park visitors from the hazards associated with the railroad. Trespassing along railroad rights-of-way is the leading cause of rail-related fatalities in America. Nationally, approximately 500 trespassing deaths occur each year, the vast majority of which are preventable. Entering or remaining on railroad property except to cross at an authorized crossing in Maryland is prohibited by MD Code 6-503(d)(1) and CSX has posted signs along the railroad tracks through the park warning visitors of no trespassing on the property.
The following service roads are closed to public vehicular use and travel except with authorization from the superintendent:

Worthington Farm Lane beyond the second parking lot.

Best Farm Lane beyond the parking lot.

Thomas Farm Lane beyond the barn.

Gambrill Farm driveway beyond the first parking lot.

Baker Farm Lane.
These areas are not maintained as public access roads and are only maintained for access for administrative use, farming operations, and emergency response.
Employee residences including the curtilage (the area immediately surrounding the house) located within the park is closed to the public.
The residences are the private domiciles of the employees.
The Superintendent may close any portion of the park and/or roadways to public access during periods of ice, snow, or any other hazardous condition. Roadways may be closed with gates, barricades, or other traffic control devices. Driving around or past barricades is prohibited.
Launching, landing, or operating an unmanned aircraft from or on lands and waters administered by the National Park Service within the boundaries of Monocacy National Battlefield is prohibited except as approved in writing by the superintendent.
Definition: The term "unmanned aircraft" means a device that is used or intended to be used for flight in the air without the possibility of direct human intervention from within or on the device, and the associated operational elements and components that are required for the pilot or system operator in command to operate or control the device (such as cameras, sensors, communication links). This term includes all types of devices that meet this definition (e.g., model airplanes, quad copters, drones) that are used for any purpose, including for recreation or commerce.

The use of unmanned aircraft is prohibited until the NPS can make a determination of the effect and impact of this use within Monocacy National Battlefield. Since this is a new use, it is subject to the requirements of the National Park Service Management Policies 2006, Sections 1.5 and 8.1, "Appropriate Use." Before a new use can be allowed, it must be assessed to determine if it is "(1) appropriate to the purpose for which the park was established, and (2) can be sustained without causing unacceptable impacts" (Management Policies 2006, Section 8.1.1). Since that required assessment and evaluation has not yet been done, less restrictive methods involving the launching and retrieval of unmanned aircraft are not appropriate. Some of the potential impacts include disrupting the atmosphere of solemnity and reverence within the commemorative landscape of the battlefield, interfering with drivers on two major commuter roads (MD 355 and Interstate 270) that bisect the Park, and compromising the safety and security of aircraft operating out of Frederick Municipal Airport.

Recreational and Sporting Activities
MONO is closed to recreational and sporting activities including, but not limited to the following:

Motorized scooters

Pocket motorcycles

Model rocket launching

Operating powered radio controlled models

Hitting golf balls or use of golf clubs

Volleyball, badminton, and other net games

Lawn darts or horseshoes

Other games or activities that damage park resources or present public safety hazards
Ample opportunities exist outside the park for these activities. Certain recreational uses are prohibited as they detract from the park's significance and purpose. These also create the potential for visual intrusion of the historic scene, and interfere with the visitor's understanding of the Battle of Monocacy. The use of the park for organized athletic events or competitive recreational events is not generally compatible with the park's significance or purpose.

(a)(2) The following areas are designated for a specific use or activity and/or the following conditions or restrictions are imposed on a specific use or activity:

For purposes of regulation of activities within the battlefield, the following recreational type activities are permitted within the designated lawn to the south of the Gambrill Mill, (see Appendix B) and within designated employee residential areas:
Kite flying

Frisbee

Playing catch (football, baseball, etc.)

Bean bag toss

Sledding
Disabled visitors may use Segways, electric scooters or electric wheelchairs as a mobility enhancing device on all paved parking areas, paved sidewalks, gravel farm lanes closed to vehicular use, and on the boardwalk portion of the Gambrill Mill Trail. They may be used within buildings that comply with standards established by the Americans with Disabilities Act. They may not be operated at a speed greater than 3 miles per hour. All Segways used in this manner shall be marked with a symbol identifying it as a conveyance for the disabled.

This measure allows for the use of mobility enhancing devices while providing for the protection of park resources and visitors.

Conditions and Restrictions on Specific Uses or Activities:
Passenger Carrying Busses and Delivery Vehicles:
Engines must be shut down when not underway or in the act of loading/unloading passengers.
The purpose of this restriction is to reduce public exposure to diesel, exhaust particulate matter, and other toxic air contaminants by limiting the idling of buses, trucks, and motor vehicles. In addition, this restriction will eliminate the noise from idling vehicles when parked in or adjacent to residential areas and natural settings located throughout the park.

Boating and Water Use Activities:
Visitors are required to wear a personal floatation device (PFD) while on board a vessel, raft, or tube from November 15 through May 15 on the Monocacy River and carry a PFD on board the remainder of the year.
Visitors are required to wear or carry PFDs during boating activities to ensure their safety and prevent incidents of drowning per Maryland COMAR 08.18.04.04.

Mask-wearing Requirements:

Individuals over the age of two who are not fully vaccinated must wear masks, except when actively eating or drinking, in the following locations:
All common areas and shared workspaces in buildings owned, rented or leased by the National Park Service, including, but not limited to, park visitor centers, administrative offices, lodges, gift shops and restaurants.
The following outdoor areas, when others are present, where the superintendent has determined that physical distancing (staying at least six feet apart) cannot reasonably be maintained:
The board walk section of the Gambrill Mill trail
Area adjacent to wayside exhibits and information panels
Masks must cover the nose and mouth and fit snugly around the nose and chin with no large gaps around the sides of the face. Masks not designed to be protective, masks with ventilation valves, and face shields do not meet the requirement.

Regardless of vaccination status, all individuals must comply with all orders regarding masks issued by the Centers for Disease Control and Prevention.

CDC prevention measures continue to apply to all travelers on public transit, regardless of vaccination status. Masks remain required on all forms of public transit that operate within parks, including busses, trains, and boats/ferries, and in transportation hubs.

Park staff should not ask visitors whether or not they have been vaccinated. Absent evidence to the contrary, park staff should operate as though non-masked visitors are fully vaccinated.

(a)(3) The following restrictions, limits, closures, designations, conditions, or visiting hour restrictions imposed under §(a)(1) or (2) have been terminated:
Not applicable at this time.
Activities requiring a permit are listed above under Public Use Limits and throughout this document under the specific 36 CFR Section that authorizes or requires the issuance of a permit. Information and applications to request a permit can be obtained at Monocacy National Battlefield during regular business hours, 9:00 am to 5:00 pm. Contact us at (301) 662-3515, via the internet at https://www.nps.gov/mono/planyourvisit/permitsandreservations.htm, or mail addressed to Chief Ranger, Monocacy National Battlefield, 4632 Araby Church Rd., Frederick, MD 21704.
Applicants for a Special Use Permit will be charged $75.00 to cover the administrative costs of processing permits. The Superintendent may waive the cost for other government agencies and events that promote or contribute to the mission of the National Park Service at Monocacy National Battlefield.
Additional charges may apply, if the purpose of a Special Use, Commercial Photography or Commercial Filming permit, requires the park staff to perform more than administrative action. Applicants will receive a written estimate of added costs, if any, after their application is reviewed.
There are other requirements and procedures associated with special park uses. These are stipulated in NPS Director's Order #53 and Reference Manual #53. These are available through the NPS web site: https://npspolicy.nps.gov/DOrders.cfm.
Part 2 General Regulations
Part 3 Boating & Water Use Activities
PFD must be worn or carried on designated waters, at the designated times, and/or during designated water based activities outlined in §1.5 of this document.
Maryland State Law requires a person aboard a vessel, tube, or raft on the Upper Potomac River and its tributaries including the Monocacy River from November 15 through May 15 to wear USCG approved life jackets.

Maryland State Law requires a person aboard a vessel, tube, or raft from May 16 to November 14 to have a USCG approved life jacket on board for every individual.

Maryland State Law requires a person aboard a vessel, tube, or raft under the age of 13 onboard crafts fewer than 21 feet in length to wear a USCG approved life jacket year round.
(a)(2) Launching or operating a vessel is prohibited, except at one of the following locations:
Along the bank of the Monocacy River immediately upstream or downstream of the Route 355 bridge.

Along the bank of the Monocacy River at the end of the Gambrill Mill Boardwalk Trail.

Along the bank of the Monocacy River accessible from the Junction Parking Lot.
Swimming or wading is allowed in waters, subject to closures or restrictions designated in §1.5 of this document.
The use of manned or unmanned submersibles may only occur in accordance with a permit issued by the superintendent.
Part 4 Vehicles & Traffic Safety
(a) Park roads open for travel by motor vehicles are those indicated below, and/or are indicated in the following publication:
Best Farm Lane to the parking lot.

Worthington Farm Lane to the second parking lot.

Thomas Farm Lane to the parking lot.
Gambrill Mill access road to the first parking lot.
Park maps and brochures can be found at http://www.nps.gov/mono.
(a), (b) The following speed limits are established for the routes/roads indicated:
The park-wide speed limit for all NPS maintained roadways, lanes and parking areas will be set at 15 miles per hour.
The Superintendent has established these speed limits as reasonable and safe for the identified locations. These locations have been posted with traffic control signs.
(a) The use of a bicycle is prohibited except on park roads, in parking areas, and on routes designated for bicycle use.
No bicycle shall be operated off established roadways. Bicycles are not permitted on sidewalks, trails, or cross country.
Soils throughout most of the park are highly erodible. The indicated uses could result in erosion that would damage natural or cultural resources.

The following additional routes, in developed areas or special use zones, have been designated for bicycle use:
Bicycle use is permitted on all park service maintained roads.
"The term "e-bike" means a two- or three-wheeled cycle with fully operable pedals and an electric motor of less than 750 watts (1 h.p.).

E-bikes are allowed in Monocacy National Battlefield where traditional bicycles are allowed. E- bikes are prohibited where traditional bicycles are prohibited. Except where use of motor vehicles by the public is allowed, using the electric motor to move an e-bike without pedaling is prohibited.

A person operating an e-bike is subject to the following sections of 36 CFR part 4 that apply to the use of traditional bicycles: sections 4.12, 4.13, 4.20, 4.21, 4.22, 4.23, and 4.30(h)(2)-(5).

Except as specified in this Compendium, the use of an e-bike within Monocacy National Battlefield is governed by State law, which is adopted and made a part of this Compendium. Any violation of State law adopted by this paragraph is prohibited."
Part 5 Commercial & Private Operations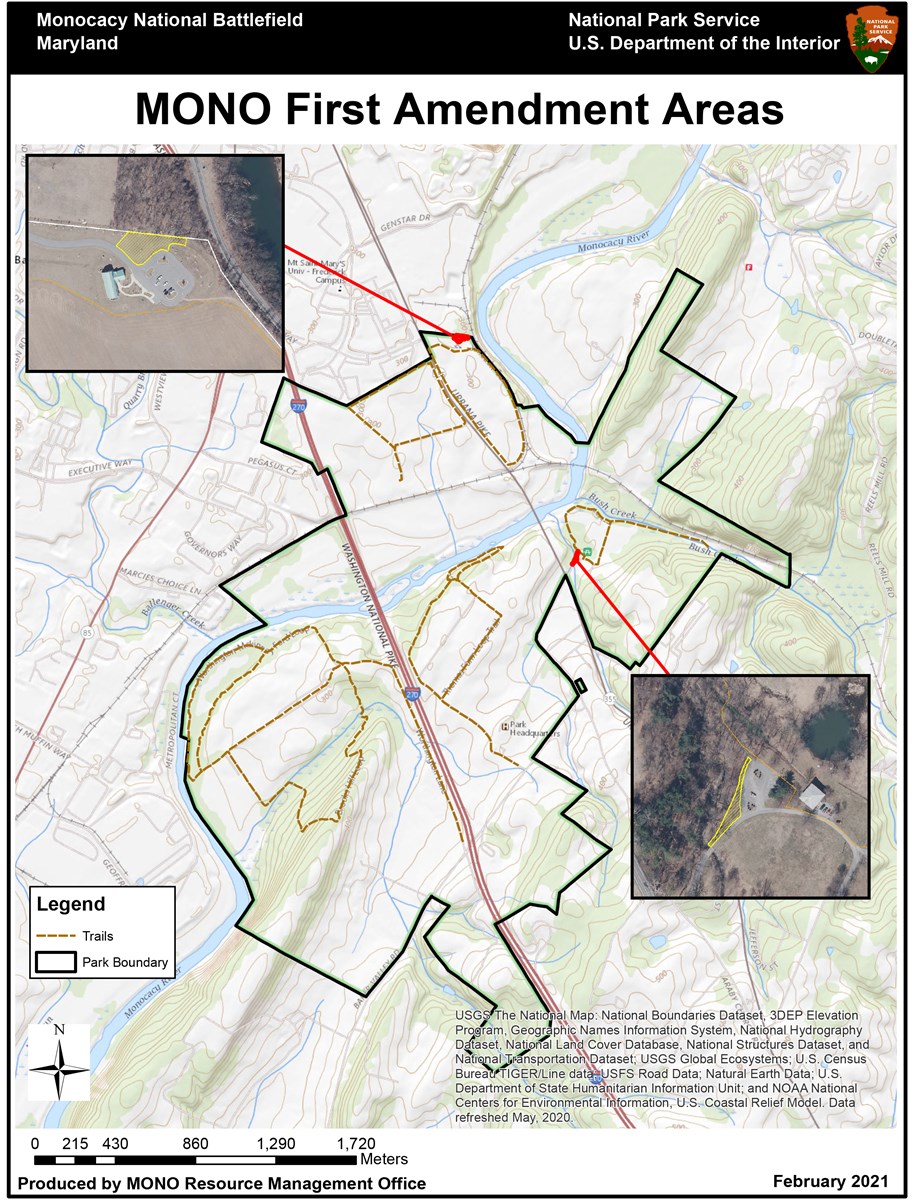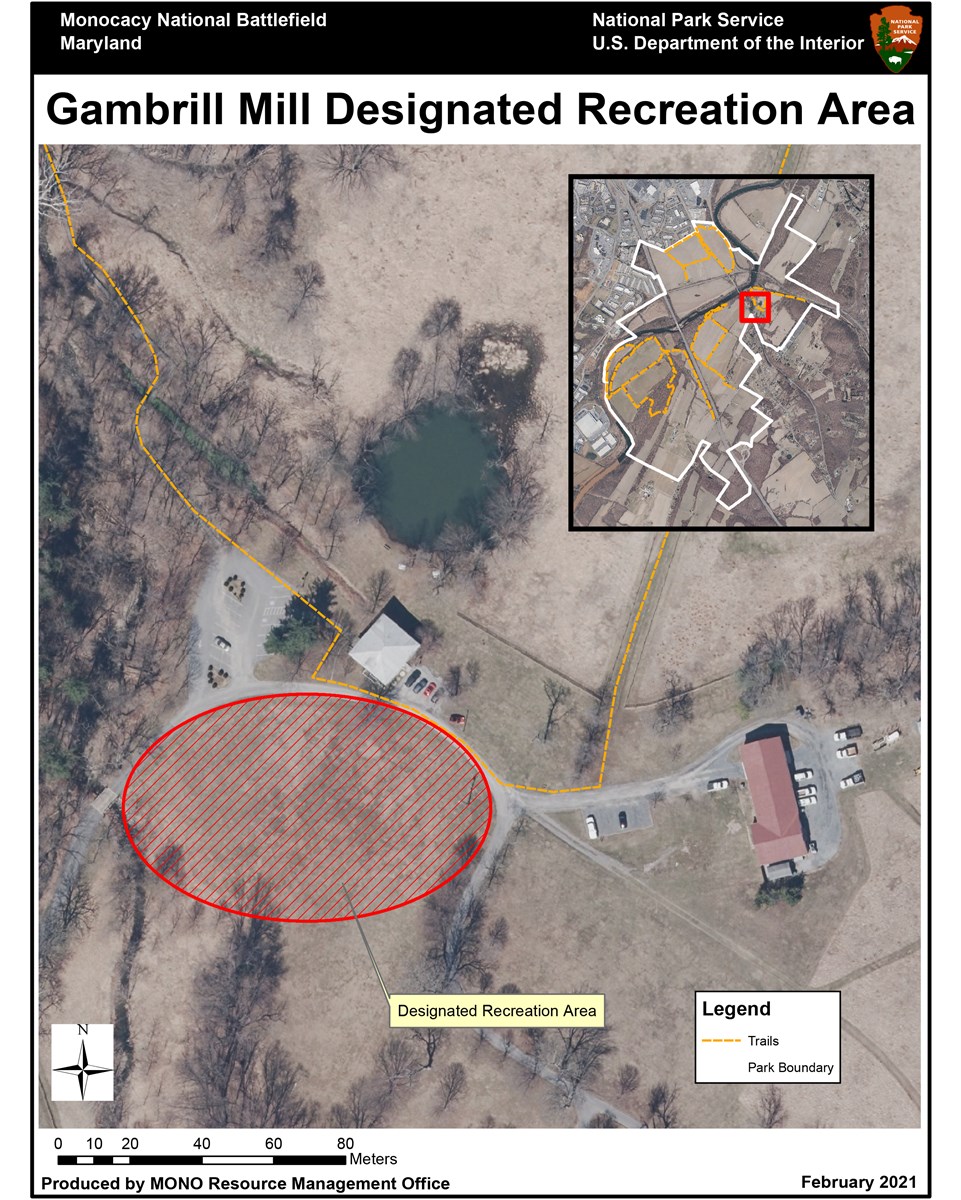 Last updated: May 25, 2021