Worthington Farm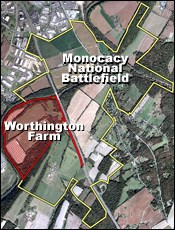 Constructed ca. 1851 by Griffin Taylor, a wealthy Frederick County agriculturist, the Worthington House is typical of the farmhouses favored by substantial farmers in Frederick County. Originally known as "Clifton Farm," the house and surrounding 300 acres adjacent to the Monocacy River were sold to John T. Worthington in 1862. Renaming his new property "Riverside Drive and Farm," John Worthington enjoyed success in farming until his death in 1905. The farm remained in the Worthington family until 1953.
During the Battle of Monocacy on July 9, 1864, Confederate troops crossed the Monocacy River onto the Worthington Farm. From the farm fields, the Confederates initiated three advances toward the Union line positioned at the neighboring Thomas Farm.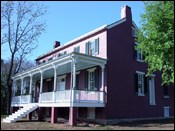 These actions resulted in heavy casualties and the Worthington House and yard were subsequently used as a field hospital. A Confederate artillery piece unlimbered in the front yard during the battle provided an amusing aside to the horrific fighting: every time the gun fired, the Worthington's rooster would crow!
As the battle raged throughout the day, John Worthington and his family took refuge in the cellar of the house. Although the cellar windows had been boarded up prior to the battle, six-year-old Glenn Worthington was able to observe the action. Impressed with a scene that was forever etched in his memory, Glenn Worthington grew up to write a history of the battle called Fighting for Time. Published in 1932, the book remains an excellent eye-witness account of "the Battle that Saved Washington."


Last updated: August 24, 2021