People Enslaved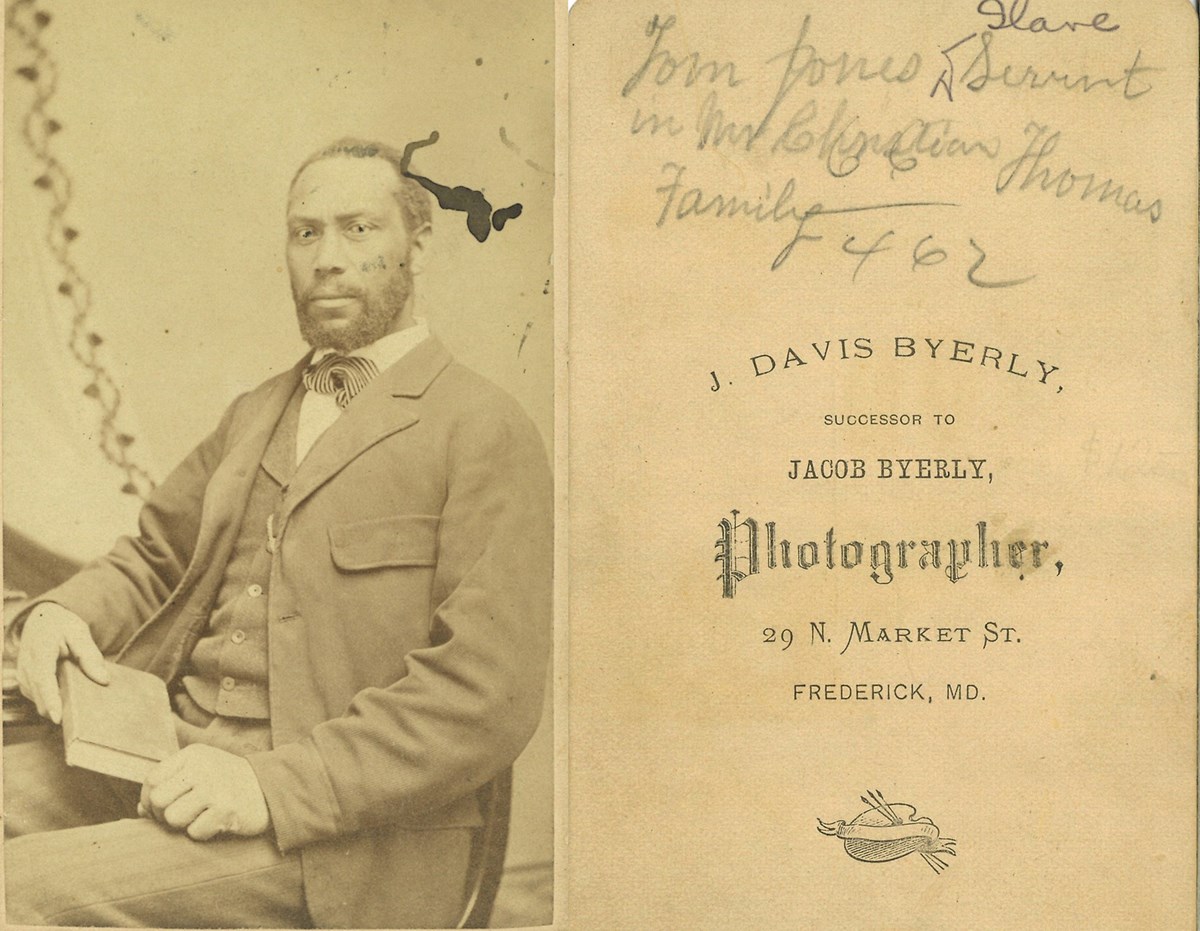 Maryland has always been a border state in the sense that it lies geographically between what is considered north (Pennsylvania) and south (Virginia) with very different economies and culture. Maryland represented the dichotomy United States in microcosm, holding African Americans in bondage until November 1, 1864, while also having a significant free-black population.
Maryland was founded as a British colony in 1634. By 1640, there were 600 European colonists and 20 Africans for a ratio of 30:1. Within 20 years that figure jumped to 11:1 and laws were deemed "necessary" to control the enslaved and indentured servant populations. Laws codified "white privilege" to separate indentured European servants from the enslaved Africans in order prevent them from conspiring to cause insurrection. The institutionalization of African chattel slavery in Maryland and other English colonies was propelled by the passage of laws created to control the laboring population.
In the 1720s and '30s Frederick County in Mid-Maryland was predominately populated by English/Scottish settlers arriving from eastern Maryland and Germans from Pennsylvania with an agricultural economy based largely on grain production and processing. While the type of agriculture in this part of the state was seasonal, and not as labor intensive as tobacco and cotton, there was a steady increase in enslaved labor in the county. Renting out slaves was not uncommon, and many also worked in the Catoctin mines, or were skilled craftsmen. In 1850, 11 years prior to the Civil War, there were 33,314 whites, 3,760 free blacks, and 3,913 enslaved persons in Frederick County. To give that some perspective, that is an increase of 23.7% of white people, 1,665% increase of free blacks, and 7.5% increase of enslaved persons from the 1790 census; the second highest increase of enslaved people during that time in the state.

During the Civil War, Maryland officially remained with the Union; however, many of its citizens sided with the Confederacy. As a Border State, Maryland was not directly affected by the Emancipation Proclamation in 1863, as it only freed slaves in states disloyal to the Union. When the need for soldiers finally pushed the U.S. government to authorize the formation of the U.S. Colored Troops (USCT), it specified that only free blacks could enlist. The law did allow, however, for enslavers to receive a signing bonus if they allowed an enslaved man to join the USCT. A recruiting station for USCT opened at Monocacy Junction in 1863. Slavery remained legal in Maryland until November 1, 1864, when Maryland passed a new state constitution. It was the only Border State to abolish slavery before the 13th Amendment in 1865.

While the abolishment of slavery brought legal freedom, it did not bring equality nor erase the harm. The Maryland 1864 constitution allowed black children to be "apprenticed" by whites until their 18th birthday. It is estimated that between 3,000 and 4,000 black childeren were almost immediately forced into "apprenticeships" following emancipation. The 13th Amendment contained language that allowed for "involuntary servitude" as a punishment for crime.
Who were these individuals and what was their story? As they were considered "property," their history was not recorded except for tax lists, sale of property, wills and such. As historians we struggle to put together the puzzle of their lives and hope for some record, letter, diary, or family history to surface. We scour through newspapers and courthouse records for some trace of lives lived that worked the land on this battlefield, used their skills as carpenters, musicians, and blacksmiths to better the lives of those who held them in bondage. Slowly we are beginning to learn more about the people whose history has till now been elusive, ignored, and even actively erased. We will continue to edit this page and add information as we discover and reclaim the stories of the people who helped shape this landscape.
Documented Enslaved Individuals Associated with Monocacy Junction
1793 slave registration:
Janvier - 24 years old
Francois Arajou - 20 years old
Jean or Jane - 16 years old
Veronique - 16 years old
Maurice - 15 years old

Marianne - 40 years old
Cecile - 18 years old
Souris - 15 years old
Pierre Louis - 35 years old
Lambert - 5 years old

Fillele - 8 years old
Saint-Louis - 14 years old
Manuel – 25 years old

Listed in 1797 court documents:
Shadrach
Harry
Jerry - 27 years old
Abraham
Stephen
Poll
George - 21 years old
Jenny

Sold on November 19th, 1822:
Emmos – approx. 20 years old
John - 17 years old
Ramond - 15 years old

Sold in 1824:
Daniel 26-45 years old

Sold on June 13, 1825:
Louisa - 14 years old
Kitty - 12 years old
Sucky - 10 years old
Ben - 8 years old
Fillille - 35 year old
Mary - 6 years old
Jane - 9 years old
Nicholas - 3 years old
John - 1 year old
Magdalene - 14 years old
Polly - 42 years old
Manuel - 50 years old
Molly - 45 years old
Marceline - 1 year old
Anthony - 15 years old
Priscilla - 9 years old
Felix - 15 years old

Frederick County Assessment Record 1825:
John Murdock
Joseph Murdock
Caroline Ridgely
Cornelius Ridgely
Augustus Ridgely
Cornelia Ridgely
Justine Brown

1830 Manumitted former laborers:
Matilda Murdock
Robert Murdock

1842 and 1846 Loan Documents
Diana Combash
Charity Combash
Nelson Combash
Eliza Ann (or Ann Eliza) Combash
Elias Washington Combash

1850 Advertisement in the Republican Citizen
Lewis Owens

1850 Frederick County Slave Schedule:
56 year old male, black
25 year old male, black
17 year old male, black
14 year old female, mulatto
11 year old male, black
9 year old female, black
6 year old male, black

1860 Sale
John N. Combash

1860 Frederick County Slave Schedule:
20 year old male, mulatto
18 year old male, mulatto
19 year old female, mulatto
15 year old male, mulatto
15 year old female, mulatto
4 year old male, mulatto
Thomas Farm
Seized in August 1781:
Moll

1790 Census:
Four enslaved persons, names and ages unknown

Listed in 1801 Court Case:
Harriet, daughter of Esther
Charlotte, daughter of Esther


1803 Will Lists:
Jane Miller, emancipated in 1803
Maria - 7 years old, daughter of Jane Miller
Ned, son of Jane Miller
Joe
Rachel
Jack, son of Rachel
Esther - 23 years old
Israel - 9 years old, son of Esther


1803 Inventory:
Lannom (Lanham) 30 years old
Moses - 36 years old
Glasgow - 33 years old
Jerry - 42 years old
Sookey, old negro woman
"Blind mullato woman"

1820 census:
Male under 14 years old
Male under 14 years old
Male 26-44 years old
Female under 14 years old
Female 14-25 years old
Female 14-25 years old
Female over 45 years old

Present in 1852:
Griffin Taylor

Purchased in 1860:
Daniel Ely 15 years old
"Old woman"
Worthington Farm
1860 Frederick County Slave Schedule:
30 year-old female
32 year-old male
19 year-old male
19 year-old male
15 year-old female
13 year-old male
13 year-old male

Named in Fighting for Time
John Ephraim Tyler Butler
Thomas Palm

Baker Farm
1850 Census
51-year-old man

1860 Census
18-year-old female
40-year-old female

1856
Savilla Williams
Henry Williams

1862
Martha, 12 years old
Lewis Farm
Further research needed.
Gambrill Mill
Further research needed, but initial reviews do not reveal that the Gambrills directly owned any slaves. However, regardless of whether the Gambrills owned slaves, they would have benefitted from the work of enslaved laborers. Most grains processed in their mill would have been grown and harvested with the use of enslaved laborers.


Last updated: September 23, 2020