The Combash Family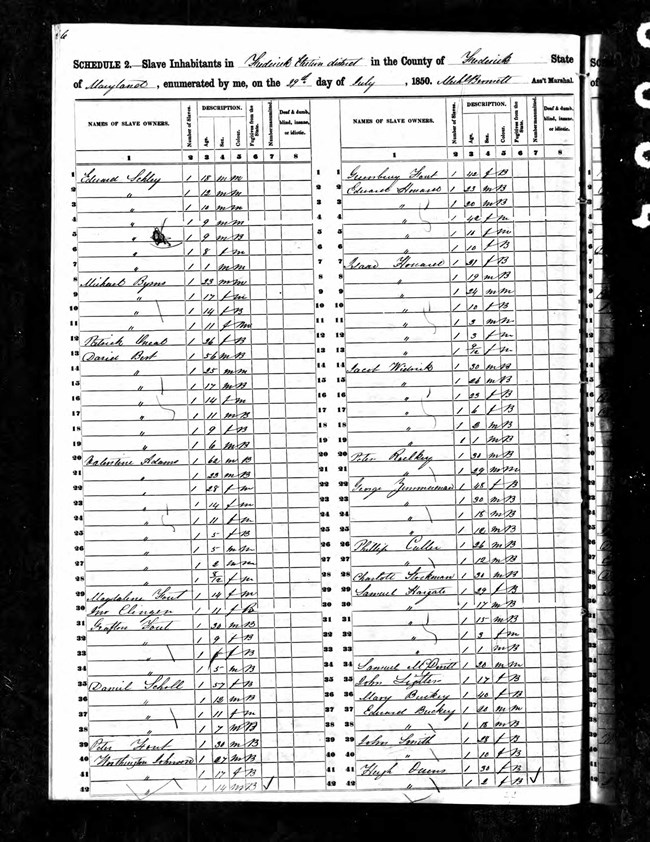 The first known documentation mentioning members of the Combash family is from loan documents. In 1842, David Best borrowed $811 from Theresia McElfresh. To secure the loan, he offered Diana Combash and her three children as collateral. Diana's age was not recorded but Charity was eight-years old, Nelson was six, and Eliza Ann was four. As an enslaved woman, Diana Combash had no legal right to her own children.

Diana and her children appear to have been spared separation in 1842. In 1843, David Best took another loan from Theresia McElfresh. He secured this loan for $1,189 with his share of the crops growing on North Hermitage property. However, in 1846 he again mortgaged Charity (now 10-years old), Nelson (age 9), Eliza Ann (age 7). He also included Elias Washington Combash, age three, in the collateral.

By 1850, Diana no longer appears to be enslaved by David Best or with her children. In the 1850 Frederick County Slave Schedule David Best claims ownership of seven people:
56-year old male, black

25-year old male, black

17-year old male, black

14-year old female, black

11-year old male, black

9-year old female, black

6-year old male, black
While we don't know Diana's age, none of the people listed are the right age range or gender to be Diana. The four youngest people listed; however, are around the right ages and genders to be Charity, Nelson, Ann Eliza, and Elias Washington. Whether Diana was sold or emancipated is unclear. If the Combash children were still with David Best in 1852, they almost certainly moved with him from the North Hermitage to the South Hermitage (today's Best Farm).

At some point in the 1850s David Best appears to have sold Charity and Ann Eliza. In the 1860 Slave Schedule David Best claimed ownership of six people:
20-year old male, mulatto
18-year old male, mulatto
19-year old female, mulatto
15-year old male, mulatto
15-year old female, mulatto
4-year old male, mulatto
There is no one of the right age and gender of Charity who would have been in her mid-20s in 1860. Elias Washington may be either the 15-year old male or the 18-year old listed. Nelson may be the 20-year old recorded in the Slave Schedule, this is further supported by David Best's sale of a "negro man named John N. [Nelson?] Combash" for $200 to John Linn in August 1860. Ann Eliza may be the 19-year old female listed; however, it is unlikely. Two months after the slave census was recorded in July, David Best purchased a 20-year old woman named Ann Eliza Combash from Joseph Thomas for $250. Best then sold Ann Eliza and Elias W. Combash to John Linn for $660. Each of the three contracts included limitations on the length of service. John N. was to serve until 1866. Ann Eliza's term was until the first day of February 1868. Elias was to serve until 1872. Whatever David Best and John Linn's intentions were in setting term limits for the Combash children, Maryland voters made them irrelevant when they approved a new state constitution that ended slavery on November 1, 1864.

The fate of the Combash family after emancipation is unknown.
Last updated: September 23, 2020