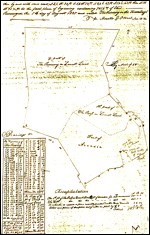 So, how do archeologists find all the cool stuff they dig up?
First, they form a set of research questions that they want to answer. For example, What did the landscape look like in Colonial times? Or, How did the lines of battle progress during the Battle of Monocacy? Or, Are there unique resources in this area that might be harmed if a construction project is undertaken here?
Once researchers determine their research questions and establish goals for their study, there's a lot to do before they go out to the field. First, they have to do a lot of historical research on the area and people they are studying. This might include talking to those who have lived there over the years, looking at old photographs, reading diaries and journals, reviewing wills and court documents, and looking at land records. Then, armed with the information they've gathered, archeologists study the physical landscape to determine where archeological resources might be located, and what the best methods might be to answer their research questions. This planning must also consider the time it will take to conduct the study, how many people are available, and what funds are on hand.