The Maryland Campaign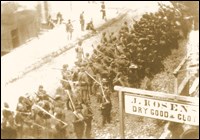 In the mid-19th century, Frederick, Maryland was a prospering community. Highways leading to Washington and Baltimore converged on the city, and the B&O railroad ran nearby. This transportation hub became a target for Union and Confederate troops throughout the Civil War.
During the September 1862 Maryland Campaign which culminated in the Battle of Antietam, Confederate General Robert E. Lee and his troops camped on the Best Farm. It was there that Lee wrote Special Order 191, detailing his plans to divide his army and capture Harpers Ferry. A few days later, Union troops camped in the area and discovered a lost copy of the special order.
The plans were shown to Union General George B. McClellan, who then quickened his pace to engage the Confederates at South Mountain (14 September 1862) and Antietam (17 September 1862).
Later in the war, in late June 1863, Union troops moved through the Monocacy region before the Battle of Gettysburg. General Winfield Scott Hancock made the Thomas House his headquarters for several days while soldiers once again encamped on the Best Farm.


Last updated: June 9, 2020