Pets
Where Can I Take My Pet?
There are many opportunities to enjoy Mojave National Preserve with your pet. Pets are prohibited inside buildings, with the exception of service animals.
Pets must be kept on a leash no longer than six feet at all times, with the exception of dogs used while hunting. Pets may never be left unattended. Pet excrement must be collected and disposed of in garbage receptacles

Pet Health and Safety
The desert can be deadly for pets. Car temperatures rise quickly in the sun, even on cool days. Your pet could die of heat exhaustion. Pets should never be left unattended in vehicles at Mojave National Preserve.
Abundant cactus spines and the chance of a run-in with a rattlesnake or scorpion are good reasons not to let your pet roam free. Wild predators such as coyotes and mountain lions could prey on your pet, even during daylight hours.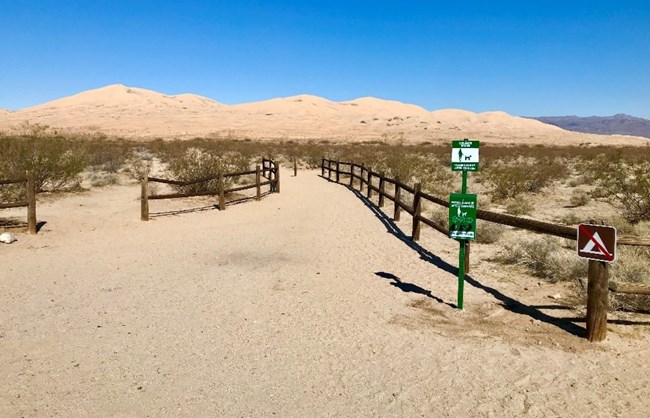 Join the B.A.R.K. Ranger Team!
Follow the B.A.R.K. Ranger core principles to have a safe and enjoyable visit at Mojave National Preserve. At this time Mojave National Preserve does not have any B.A.R.K. Ranger Dog tags.
B
ag your pet's waste
Keep the Preserve clean by bagging and properly disposing of your dog's waste. Pet waste contains chemicals that can have adverse effects on wildlife.
A
lways leash your pet
Pets must be kept on a leash
no longer than 6ft at all times
while in the park. Leashes protect your dog from becoming lost, getting too close to others, and disturbing (or being disturbed) by wildlife.
Respect wildlife
Dogs can threaten wildlife by scaring them away from nesting, feeding, and resting sites. Keep a safe distance from wildlife at all times; the park is their home.
K
now where you can go
Pets are allowed on all trails Mojave National Preserve.


Last updated: May 7, 2021