Kelbaker Road
"At Kelso, we took on supplies and found that Baker lay just across another small range. There was no road or trail, but once we gained the summit, Baker could be seen in the white alkali sink below. Thirty-six miles away, just twelve merciless hours of walking; and on Armistice Day 1936 we stumbled wearily into Baker."
-Edna Calkins Price, Burro Bill and Me

Today, Kelso and Baker are connected by Kelbaker Road, a 56-mile paved road stretching from I-15 at Baker in the north to I-40 east of Ludlow, in the south.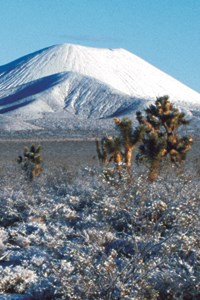 Cinder Cones & Lava Flows
No services.

About 16 miles southeast of Baker, Kelbaker Road traverses a 25,600-acre area of lava flows and volcanic cinder cones thought to range in age form 10,000 to 7 million years old. In 1973, the area was designated as Cinder Cones National Natural Landmark.
Aiken Mine Road (19.5 miles southeast of Baker) offers an interesting side trip through the heart of the area and access to a lava tube (PDF, 1.53 MB). High clearance and/or four-wheel drive recommended.
Kelso Depot
Information, exhibits, orientation film, art gallery, bookstore, restrooms, water, picnic area.
Located 34 miles southeast of Baker, Kelso Depot began operation in 1924 and served as train station, restaurant, and employee housing on the Los Angeles and Salt Lake route of the Union Pacific Railroad. Today, it is Mojave National Preserve's primary information center and museum.
More...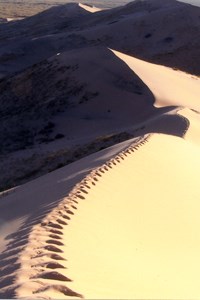 Kelso Dunes
Interpretive exhibits, pit toilets, no water.
About 42 miles southeast of Baker (7 miles south of Kelso Depot), then 3 miles west on a graded dirt road, Kelso Dunes were created over the course of 25,000 years by winds carrying sand grains from the dried Soda Lake and Mojave River Sink. Nearly 700 feet high and covering a 45-square-mile area, they are among the tallest and most extensive dune fields in the United States.

The Kelso Dunes produce a "booming" or "singing" sound when sand with the right moisture content slides down the steep slopes. Try it for yourself—run down a dune slope (but don't trample vegetation!) to initiate the sound.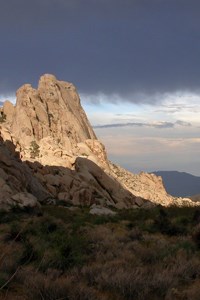 Granite Mountains
No signs or services.
An imposing jumble of granite marks the south entrance to the preserve, 50 miles southeast of Baker on Kelbaker Road. Portions of the Granite Mountains lie within the University of California's
Sweeney Granite Mountains Desert Research Center
; The center is not open to the public, so please respect the signs that mark the boundary.
High clearance and four-wheel drive recommended.
Last updated: May 10, 2020