Current Research Projects & Needs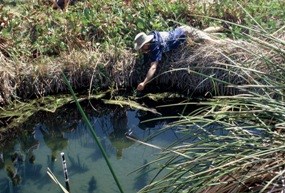 Water, or more aptly the lack of water, is the defining characteristic of deserts and is a core theme of much of the ongoing research at Mojave National Preserve. The photo is of a small spring at the edge of Soda Dry Lake that supports a population of Mohave tui chub (Siphatales bicolor mohavensis), the only fish native to the Mojave River.
Desert tortoise juvenile survivorship (coming soon).
Last updated: February 28, 2015