Disease Outbreak in Desert Bighorn Sheep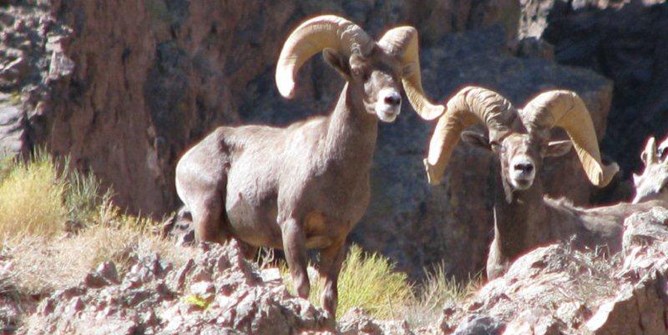 Respiratory disease has been detected in bighorn sheep in the area of Old Dad Mountain, 15 miles southwest of Baker, California. Observers have reported sick, dead, and dying bighorn sheep. Laboratory analysis has confirmed that these animals tested positive for pneumonia.
Historical perspective
Bighorn sheep once roamed nearly every mountain range in Southern California and Nevada, but their numbers began to decline in the mid-1800s, as settlers and prospectors swept into the region.
By 1960, a century of impacts including disease, unregulated hunting, and habitat loss had greatly reduced California and Nevada's bighorn populations. Wildlife officials in both states launched bighorn sheep release programs to rebuild herds, moving animals from healthy herds to mountain ranges within their historic range.
But disease always looms as a threat to those gains. In 2010, pneumonia epidemics spread through bighorn populations in many western states. The disease typically enters into a population that has no resistance, and as a result, animals can become infected and die at a high rate. The few animals that survive are now carriers. New lambs catch the disease within a few months and die, so the population continues to decline. The disease typically effects a population for more than a decade. Scientists believe that pneumonia outbreaks have reduced herds of bighorn sheep in western states by up to 90 percent.
Pneumonia outbreak on Old Dad Mountain
In May 2013, a National Park Service employee who was inspecting wildlife guzzlers found four desert bighorn dead on Old Dad Mountain, 15 miles southeast of Baker, California. The employee also observed other sick animals that appeared to be weak and unsteady with labored breathing. Laboratory analysis of blood and tissue samples indicated that it had pneumonia. This disease may enter desert bighorn populations from domestic sheep or goats and is usually fatal to bighorn.
Soon after the outbreak was discovered, biologists from the National Park Service and California Department of Fish and Wildlife conducted field surveys to monitor the scope and spread of this wildlife disease outbreak. The terrain is difficult–steep, rugged, and remote. Using volunteers from the Society for the Conservation of Bighorn Sheep and the Sierra Club to expand their capacity, biologists visited springs and guzzlers where bighorn congregate on Old Dad Mountain and in nearby areas to determine the extent and seriousness of the problem.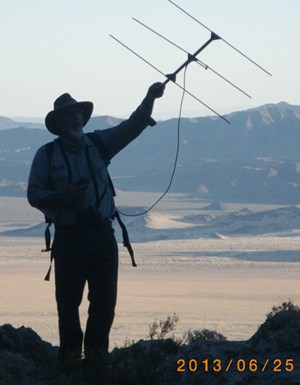 Updates
August 29, 2013
Two weeks ago, sick bighorn sheep were discovered for the first time in the Marble Mountains, about 30 miles south of Old Dad Mountain where the original outbreak of pneumonia was discovered. Tests confirm that bighorn in the Marble Mountains have the same strain of pneumonia as the Old Dad Herd. The Marble Mountains are located just south of Interstate 40 on the east side of Kelbaker Road, on lands managed by the Bureau of Land Management.
November 14, 2013
During the week of November 3rd, an interagency team of scientists worked with a contract animal capture expert to place Global Positioning System (GPS) and radio-telemetry monitoring collars on bighorn sheep in twelve mountain ranges in the Mojave Desert. The investigation was an interagency collaboration directed by the National Park Service and California Department of Fish and Wildlife. The team placed collars on 72 desert bighorn sheep, and biological samples were collected from each animal.
The goal of the investigation is to help scientists better understand the distribution of the disease, monitor its spread, and learn about demographic effects of the disease on bighorn herds. This information will allow both agencies to make well informed management decisions regarding bighorn sheep in the future.
As part of this investigation, the team had intended to capture, euthanize, and necropsy animals displaying clinical signs of the disease. Surprisingly, few animals were encountered showing any signs of the disease.
Using visual assessments, scientists were unable to detect any spread of the disease beyond the known areas of Old Dad Peak and Marble Mountains. However, laboratory analysis of biological samples may provide more definitive information. (See April 2, 2014 update below)
The only mountain where carcasses were found was the Old Dad Peak area. Most of these were old carcasses from earlier in the year. However, the overall encounter rate and total number observed during the operation were approximately one-third to one-half of expectations based on past experience. This could be in part due to other factors unrelated to disease, such as movement to areas of better forage or dispersal over a wider area that would make the animals more difficult to detect.
Data collected over the coming months from the bighorn that were collared during this operation will provide essential information about the extent and effects of this disease outbreak and will better inform management decisions.
April 2, 2014
Laboratory analysis of biological samples taken from bighorn during the November 2013 collaring effort demonstrated that the pneumonia outbreak is present across the research area. Impacted herds now include those in mountain ranges within Mojave National Preserve; the South Bristol, Marble, and Clipper Mountains south of I-40; and the Spring Mountains in Nevada. A different strain of pneumonia has been detected in the River Mountains near Boulder City, Nevada, and into Arizona. Plans for stepping up observations of herds within Death Valley National Park are underway.
Of the 72 sheep collared in November 2013, only six have died, and scientists report that they observed fewer sick and dying sheep in the mountain ranges south of I-40, even though laboratory analysis show this herd is carrying the bacteria that cause this disease. Scientists continue to monitor collared sheep, with a focus on lambing and disease transmission to young animals.
The next major helicopter survey of the entire region is planned for fall 2014.
Frequently Asked Questions
How many bighorn sheep are in the Old Dad herd? Scientists estimate there were 200 to 300 desert bighorn in this particular population before this disease outbreak.
How did pneumonia enter the desert bighorn herd? Pneumonia passes to bighorn from domestic sheep and goats. No one knows for certain how this particular disease outbreak started. Desert bighorn have no natural defenses to diseases carried by domestic animals. The public should avoid releasing domestic sheep or goats into the wild as they often are disease carriers even if they have no symptoms.
What is the prognosis for animals that are sick? The mortality rate for infected animals is 50 to 90 %. There is no vaccine or cure.
Can this disease be transmitted to humans? No.
Can this disease spread into other herds outside Mojave National Preserve? There is potential for spread this summer as animals begin to mix during the rut. Herds outside of the preserve are also susceptible to contracting pneumonia from domestic animals anywhere that they come into contact.
Are bighorn sheep hunted in Mojave National Preserve? Yes, but tags are limited. Three bighorn were harvested from this area during the last hunting season.
How many bighorn sheep are in Mojave National Preserve? There are five separate population groups; individuals sometimes move from group to group. Before this current disease outbreak began, scientists estimate there were between 425 and 750 animals in the five groups.
Last updated: February 28, 2015