Amphibians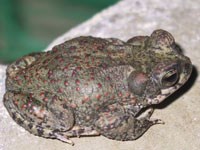 Red-spotted toad
The red-spotted toad (Bufo punctatus) is the only naturally occuring amphibian in Mojave National Preserve. They are abundant at Piute Creek and Cornfield Spring, and have been found at many other springs.
Pacific treefrog
The pacific treefrog (Pseudacris regilla) is native to the Mojave River System. At Mojave National Preserve, it is found only in and around the large pond at the Desert Studies Center at Zzyzx and was probably introduced following the construction of the ponds.

California Treefrog
The California Treefrog (Hyla cadaverina) lives in the Peninsular Ranges of California including the little San Bernardino Mountains at at some desert oasis such as Indian Cove at Joshua Tree National Park. Although scientists have reported hearing them in the 1960s and the 1990s in springs in the Granite Mopuntains, there have neen no confirmed sightings.


Last updated: April 10, 2020