Hilltop House Salvaged and Restored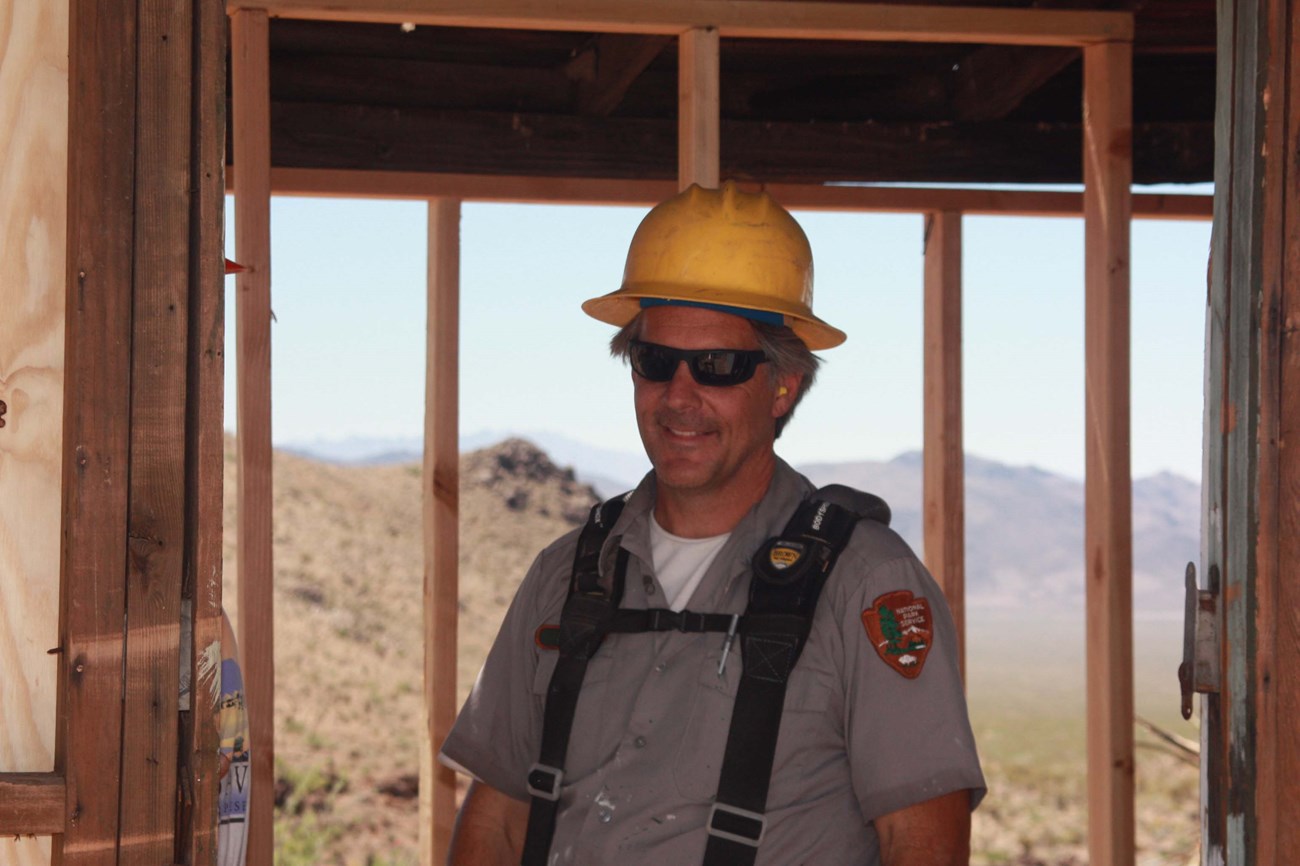 David Nichols
Archaeologist
"The National Park Service is dedicated to conserving unimpaired the natural and cultural resources and values of the National Park System for the enjoyment, education, and inspiration of this and future generations."
In the 1990s, a grassroots initiative was started to address the deterioration of prehistoric and historic sites in our National Parks.The "Vanishing Treasures Initiative" aims at achieving this goal in three specific ways: through documentation, repair, and training of craftsmen. The National Park Service identified parks which were deemed "in danger" in terms of losing valuable cultural resources. Of the three listed in California and Nevada, Mojave National Preserve was one. www.nps.gov/archeology/VT/VT.HTM The question becomes, what is it that's in danger?
Cultural resources are defined as historic items and artifacts in our parks that serve as physical evidence of the existence or passage of mankind on the landscape. These include 10,000-year-old artifacts representing hunting or seed processing or perhaps something as recent as 50-year-old mining cabins. Regardless of age, all of these 'human' remains on the landscape reflect the history of mankind's culture as it has existed in different areas of the world.
Our national parks preserve these vital historic records for future generations as witnesses to the hardy nature of our species. One example of this preservation effort can be found here in Mojave National Preserve.
The Bighorn Mine residence, often called Hilltop House, is a site located at the southeastern base of the Hidden Hills and is part of the Hidden Hill Mining District in the south central portion of Mojave National Preserve. The house was built prior to 1933, when W.E. Wilson was the Bighorn Mine operator and primary investors Herbert and Anna von Wagenheim were living at the mine to keep watch over their interests. The Bighorn Mine operation was one of the customers to whom the historic 7IL Ranch cattle operation (under the proprietorship of Mark and Mary Pettit at the time) delivered beef.
The Hilltop House residence at the Bighorn Mine is known to have been a gathering place for local miners, ranchers, and homesteaders for holidays and other celebrations. This structure collapsed in high winds during the fall of 2008, and preserve maintenance staff have rebuilt the structure. Their purpose is to reestablish its presence on the visual historic landscape so that present and future generations of explorers can view and visit this place and experience it just as it stood in the 1930s. This was made possible by a grant through the Vanishing Treasures fund.
If your travels take you to the Bighorn Mine site, please acknowledge its vital historic role in the landscape and the work that's been put in to restore it by leaving it as you found it. Thank you and enjoy a bit of our history-yours and mine.
Last updated: February 28, 2015