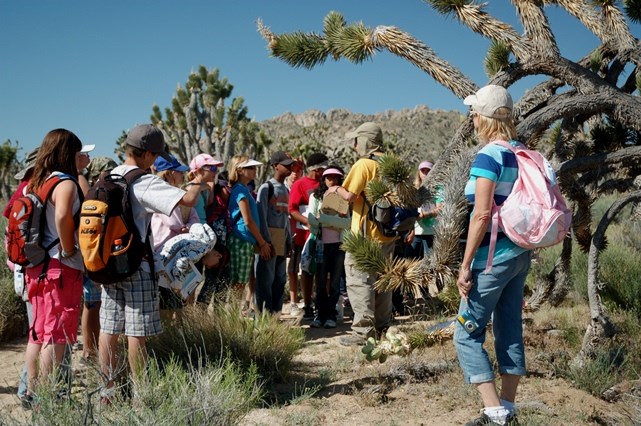 Hike up the Cima Dome and through the world's largest and densest Joshua tree forest then visit a historic railroad depot and museum.
Contact: Rana Knighten
Phone: (760) 252-6124 or (760) 221-2829
Email: Rana_Knighten@nps.gov

Overview
The largest and densest Joshua tree forest in the world is located on top of the huge Cima Dome. This unique area allows students to see first-hand a Mojave Desert icon. Along the Ranger-led hike, students will examine the geologic processes involved in creating Cima Dome, about the life-cycle of the Joshua tree and about the animals that depend on this unique tree for food and shelter. The hike lasts 1.5 - 2 hours. Then head to the Kelso Depot Visitor Center for lunch and additional Ranger Programs and activities.
Logistics and Planning
B school bus, allow 1.75 hours from Barstow, 1.5 hours from Las Vegas, 2.5 hours from Victor Valley, 45 minutes from Baker. Route is along paved roads. No gas stations are located inside the park, so plan accordingly.
Typically, students arrive at the Kelso Depot Visitor Center between 9:30 - 10:00AM where a Ranger will greet your group. Students take turns using the available restrooms. Students are generally split into two or three groups and rotate between Ranger-led activities and programs. These programs may include a tour of the museum exhibits, a scavenger hunt, or programs about geology, animal adaptations, or American Indian plant traditions. Download the Kelso Depot Guide to Programs (101KB PDF) for more information. With adult approval, time can be given to the students to shop in the Bookstore for souvenirs.
After we conclude our programs, students will have time to eat their sack lunches at the outside picnic tables. Group leaders are responsible for cleanup after the group before leaving the area. Restrooms and water are available. After lunch, students will board the bus and head to the Teutonia Peak Hiking Trail (approximately 25 miles away, 30 minutes drive). Rangers will meet your group at the trailhead.
The Ranger-led hike along part of the Teutonia Peak Trail lasts approximately 1.5 hours and is about 1 mile. This hike through the largest and densest Joshua tree forest in the world allows students to learn about the iconic Joshua tree and the many animals that depend on this unique plant for food and shelter. Students will discover aspects of Mojave Desert geology as we examine rocks and outcroppings on the Cima Dome. Along the way, Rangers will guide students as they see, touch, and smell some of the many plants traditionally used by Chemehuevi and Mojave Indians.
Closed toed shoes, long pants, shirts that cover the shoulders, water, hat, and sunscreen are required - no sandals, shorts/skirts, or tank tops permitted. A sweater or light jacket is recommended. Wildlife in the park is protected, so participants should be advised not to pick any flowers or disturb any animals while they are in the park. One adult chaperone/teacher per every ten students is required for the guided walk.