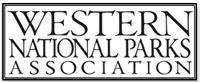 Looking for more about Mojave? Western National Parks Association (WNPA) operates bookstores at Kelso Depot Visitor Center, Hole-in-the-Wall Information Center, and the Headquarters office at Barstow, and maintains an online bookstore as well.
Contact Mojave's WNPA bookstore manager at (760) 252-6108.
WNPA is a non-profit organization that supports educational and scientific programs in National Park Service areas across the western United States.